T. SUE VERSTEEG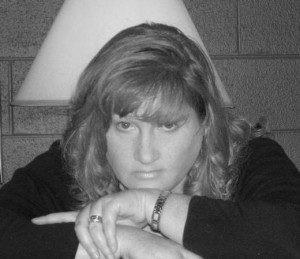 T. SUE VERSTEEGÂ was born and raised in the southeast central region of Iowa in the small town of Grinnell. At the age of 21, she moved her parents and family to the beautiful Ozarks of Missouri where they have since made their homes. She has been blessed with the love of an adoring husband (who is also her soul mate), two wonderful children, the best sister in the world and truly amazing parents. Writing has always been a passion in her life as most family members and friends can attest. Long letters, journals and short stories can be found in nearly every drawer and filing cabinet in her home, along with manuscripts and research documents. Her most sincere wish is that you can find as much enjoyment in reading her stories as she did in the creation of them.
Website:Â http://tsueversteeg.com
---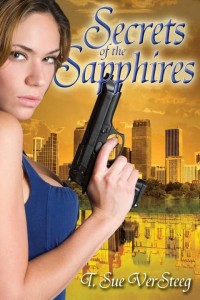 SECRETS OF THE SAPPHIRES
BUY NOW:Â AMAZONÂ Â |Â B & NÂ |
Nia Brooks entered the CIA to get to the bottom of her parents' deaths. Joining the Paranormal Division, she learns to fend for herself after dealing with prejudice, not to mention the vampires and shifters. Paired with an egotistical agent, the bloodsuckers and hairy boys don't seem so bad.
Garrett Van Deren has his own agenda behind joining the CIA. When his dead partner's body disappears without a trace, Garrett knows the vampire underground is responsible and the Paranormal Division offers him answers. He slams head first into a roadblock when he meets his new partner. A hundred pounds soaking wet, he'll be babysitting instead of tracking down the killer.
Tossed back in time by a mysterious white sapphire, two headstrong agents must learn to trust one another while they search for a way back to the Twenty-First Century and the people responsible for the rift in time.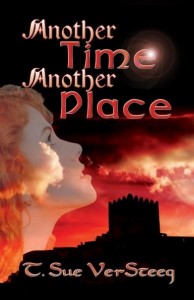 ANOTHER TIME ANOTHER PLACE
BUY NOW:Â AMAZONÂ Â |Â B & NÂ |
Tessa Garrett has had less than an interesting life. Forgotten and abandoned as a child, her life consisted of foster homes and self-reliance. Her only escape from reality was her dreams; dreams of a castle she thought only existed in her mind until she woke up within its walls in the thirteenth century.
Eric Bartholomew Hadley had found no time for love, unless it became necessary to lure the opposite sex into his bedchamber. As future lord of his castle, Eric will honor his father's last request and marry a shrew. Knowing the loveless union will provide his castle with a lady and hopefully an heir, he reluctantly agrees to the upcoming nuptials until he discovers Tessa in his courtyard.
Can true love overcome all odds and bridge the gap of eight centuries?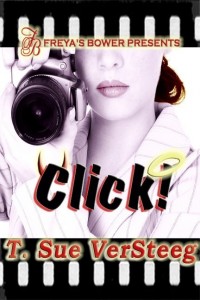 CLICK!
BUY NOW:Â AMAZONÂ Â |Â B & NÂ |
Almost every woman has them: those two very distinct voices in their mind that always offer advice. One voice can usually be chalked up to common sense, the other to mischief, mayhem or sometimes just plain morbid curiosity. Both are always present and accounted for, ready to offer their two cents worth.
Jemma Keith is no exception to this rule. Her inner voices only agree that she should accept the offer to photograph her snake of an ex-boyfriend?s wedding. They do not, however, agree on what to do once she gets there. Her common sense side feels like taking the high road would be appropriate, that she can handle being the better person. Her mischievous side feels more like slithering in and crashing the whole affair down around his ankles for cheating on her.
What is a woman to do when she can?t make up her mind?
At least both sides know how she feels about the bride?s cousin, Anthony Giovanni: hot, delirious, and oh, so tempted.
Join Jemma on the ride of her life through lust, temptation, revenge, and love as she fights her inner selves for peace of mind and a chance at happiness.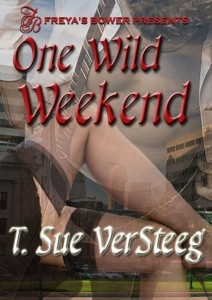 ONE WILD WEEKEND
BUY NOW:Â AMAZONÂ Â |Â B & NÂ |
Melissa Tanner has spent her adult life in search of Mr. Right. After committing herself to a weekend of banking seminars, with her biggest concern being how to stay awake through them, she literally runs into her next prospect at the airport. Can the boring weekend be saved and turned into a wild ride with Mr. Right? Or will he just end up being another Mr. Right-Now?