SHAWNTELLE MADISON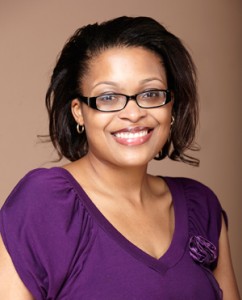 SHAWNTELLE loves to write stories where something mysterious always happens. Her stories unfold in either a magical place or she drop kicks her heroine and hero into the mix of crazy magical circumstances. Her characters have been swimming around in her head for the longest of time, but its only recently that she has given into their demands and wrote down their adventures.
Why paranormal? Well, every time she thinks about writing something straight forward she gets caught in the what-if exercise. What if her hero was a werewolf or if her heroine was a nymph? How far could she go down the rabbit hole and not sound crazy? (Yet still be somewhat believable?)
Writing is one of her first loves, besides web development. She is a die hard geek who earned her undergraduate degree in Math from Iowa State University. (She even almost finished a degree in Russian Studies.)
As far as memberships, she's a member of Science Fiction & Fantasy Writers of America (SFWA) and Romance Writers of America (RWA), in particular the Missouri RWA and Young Adult RWA.
She currently lives in Missouri with her husband and children (the Den of Evil).
Website: www.shawntellemadison.com
---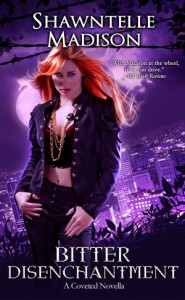 BITTER DISENCHANTMENT
A Coveted Novella
Release Date: April 2013Â 
BUY NOW: Amazon  |  B&N   |  

Werewolf Natalya Stravinsky's outspoken sidekick, Aggie McClure, is featured in this prequel novella. Before Agatha set foot in South Toms River, New Jersey, she had the fight of her life to face. Destined to be the alpha female over her Manhattan pack, Aggie was fully prepared to take on her role until her father arranges a marriage without her consent. She wants out–but the only way is with money–something her new controlling husband won't give her to escape. But such odds never kept a wolf like Aggie down. To sever the twisted tie, she finds herself pitted against raging wood nymphs and backstabbing brownies in an underground supernatural fighting ring. With every victory, the sweet taste of freedom is closer, but her husband isn't willing to let her go that easily. Until the very end, Aggie must fight for the one thing she's never had: a choice.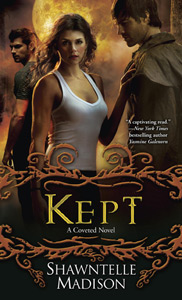 KEPT
Coveted Series Book 2
Publisher: Ballantine Books
Release Date: November 27, 2012Â 
BUY NOW: Amazon  |  B&N   |  Indiebound   |  BAM
A funny and sexy new paranormal romance, perfect for fans of Charlaine Harris and Patricia Briggs, Kept features the charmingly quirky werewolf, Natalya Stravinsky, as she navigates the minefields of love and war in the Garden State.
Fresh from defending her pack in battle, Natalya Stravinsky, a whip-smart werewolf with a lovable neurotic streak, wants a little rest and relaxation. Once an outcast, she's now eager to rejoin the ranks of her New Jersey pack, and has even gotten a handle on her obsessive urge to hoard holiday ornaments. Yet Nat barely has time to revel in her progress before the next crisis comes howling at her door.
Nat's father has suddenly gone missing, captured by the Russian werewolf mafia. And as Nat steps up to save her dad from a mob boss's deadly game, two men step in to play another round for her heart: her gorgeous alpha ex-boyfriend, Thorn, and her new flame, the sweetly sensitive wizard Nick. With her life growing more harried by the minute, Nat must stay cool, calm, and collected . . . or else risk losing everything.
COVETED
Coveted Series Book 1
Publisher: Ballantine Books
Release Date:Â April 24th, 2012

BUY NOW: Amazon  |  B&N  |  Indiebound  |  BAM
SOMETIMES WHAT YOU COVET IS IMPOSSIBLE TO KEEP.
For werewolf Natalya Stravinsky, the supernatural is nothing extraordinary. What does seem strange is that she's stuck in her hometown of South Toms River, New Jersey, the outcast of her pack, selling antiques to finicky magical creatures. Restless and recovering from her split with gorgeous ex-boyfriend, Thorn, Nat finds comfort in an unusual place: her obsessively collected stash of holiday trinkets. But complications pile up faster than her ornaments when Thorn returns home, and Nat and Thorn discover that old flames still remain intense.
Before Nat can sort out their relationship, she must face a much hairier problem. Her pack is under attack from the savage Long Island werewolves—and Nat is the first target in the turf war. Toss in a handsome wizard vying for her affection, a therapy group for the anxious and enchanted, and the South Toms River pack leader ready to throw her to the wolves, and it's enough to give anybody a panic attack. With the stakes as high as the full moon, Nat must summon all her strength to save her pack, and ultimately, herself.