SERENITY WOODS
Serenity Woods lives in the sub-tropical Northland of New Zealand with her wonderful husband and gorgeous teenage son. She writes fun, flirty, and sexy contemporary romances for the modern woman who likes intelligent, spirited heroines, and hunky but approachable heroes. She's won several romance writing competitions and is a member of the Romance Writers of New Zealand. She would much rather immerse herself in reading or writing romance than do the dusting and ironing, which is why it's not a great idea to pop round if you have any allergies. You can check her out at www.serenitywoodsromance.com.
---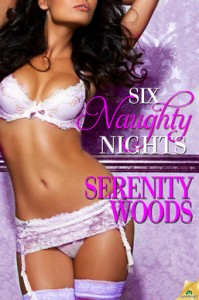 AVAILABLE NOW FROM SAMHAIN PUBLISHING
Six nights to remember, six days to forgive…
Esther is grateful for the strong arms that saved her and her young son from an earthquake. But she wishes their rescuer was someone else. Anyoneother than the man who left her pregnant after a holiday fling.
Toby's carpentry skills take him wherever there's work, and right now that work is definitely cut out for him. He has to get over the shock that the little boy in his arms is his own son—and convince Esther that he's always regretted walking away from her.
Esther can't bring herself to deny Toby his right to get to know Charlie. Besides, with her own home flattened, she has nowhere to go but with him to his apartment…where she discovers a sexy role-playing card game tucked in his suitcase.
When Toby invites her to accompany him to the Northland to attend his best friend's wedding, the opportunity to explore their still-simmering attraction is too tempting to resist. As the steamy scenarios heat up, they start to realize this is more than a game. But Esther's hiding a secret that could cause as much devastation as the earthquake…
Warning:  Contains role-playing fun including Roman slave and master, sexy schoolgirl spanking, and interrogation of a spy. Silk scarves included.
---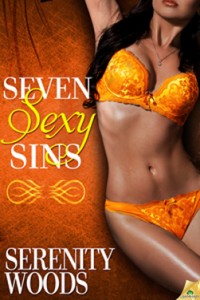 AVAILABLE FROM SAMHAIN PUBLISHING
The road to passion is paved with guilty pleasures. 
Faith Hillman is in a bit of a pickle. She's been commissioned to write a series of magazine articles on spicing up your love life. She's got the theme—the "Seven Sexy Sins"—but there's one major problem. She hasn't  experienced any of them.
Ever since Faith's older brother gave Rusty Thorne a black eye for kissing her on her eighteenth birthday, he's kept his distance, waiting for the right time to make his move. This is it. She needs a research partner? He's the man for the job.
When sex-on-legs Rusty offers his services, Faith is all over it—with one caveat. The notorious heartbreaker must sign a confidentiality contract. Just to  keep him safe from her brother's wrath, of course…and her heart off Rusty's long  list of conquests.
As they work their wicked way through the list, the implications of the contract hit Rusty as hard as the handcuffs binding his wrists to the bed. It isn't just Faith's touch that rocks his world. It's the way his heart likes it that blows his defenses out of the water. And makes him wonder, when the contract ends, if he can bear to let her go.
Warning: Includes rebellious hero who enjoys inserting Tab A into Slots B, C, and even occasionally D. Also includes highly inappropriate use of a Mars Bar.