PROMISE HARBOR WEDDING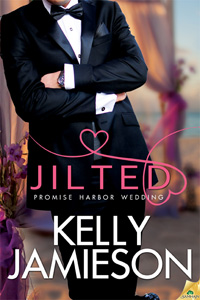 AVAILABLE 3/19/13 FROM SAMHAIN PUBLISHING
The wedding's off but the honeymoon is on…
Promise Harbor Wedding, Book 1
Devon can do this. She can show up at her ex-boyfriend Josh's wedding, even though he's marrying her ex-best-friend. She can show everyone she's happy with her fabulous life in Boston, her great career, her amazing shoes — and she can show everyone she's over him.
Truth is, her life isn't so fabulous. She's just been downsized out of her job, her Jimmy Choos won't pay her mortgage, and…she's still heartbroken that Josh chose family over her. The real reason she's enduring this wedding is that her next stop is nearby Greenbush Island, her last hope of finding a new job.
Josh knows marrying long-time friend Allie will make everyone happy after the rough time their families have been through, and since the woman he really wanted to marry chose her career and big city life over him—why not?
But the perfect wedding turns into a perfect disaster when Allie leaves him at the altar for another man. He never saw that coming! But hey, Devon's there, offering to help him look for Allie on Greenbush Island, where he'd planned their honeymoon. Only, all they find there are their old feelings for each other and a temptation to risk their hearts one more time…
Product Warnings
This book contains a firefighter hot enough to ignite flames, a woman who doesn't want to get burned again, a honeymoon suite but no honeymoon, and sex not on the beach (sorry).
---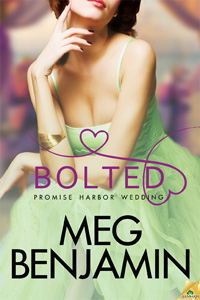 AVAILABLE 4/2/13 FROM SAMHAIN PUBLISHING
Sometimes you have to get lost before you can find yourself.
Promise Harbor Wedding, Book 2
Greta Brewster McBain is in a bind. Two, if she's really counting. First there's the can-barely-breathe bridesmaid's dress from hell. Second, the stranger who just carried her "perfect" brother's fiancée out the church door has made it impossible to tell her own mother about her own divorce.
Rather than confirm her reputation as the family screw-up, Greta takes a drive to clear her head.
Trapped in a hole and unable to reach his cell phone, Hank Mitchell is resigned to becoming a permanent part of his own archeological dig when help arrives—in the form of a woman who looks like a Gone With The Wind refugee. Behind the ruffles and lace, though, is something he appreciates: a woman who isn't afraid of a little dirt.
Their instant connection draws Greta into the eccentric world of the Hotel Grand, where she impulsively trades her hoopskirts for an apron. Soon things are getting hot—not only in the hotel kitchen, but in Hank's arms…
Product Warnings
Contains hot moonlit sex, a melancholy turtle, two wisecracking seniors, and the world's ugliest bridesmaid dress.
---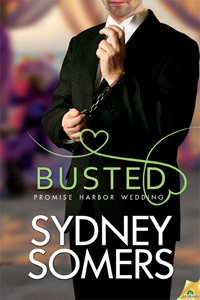 AVAILABLE 4/16/13 FROM SAMHAIN PUBLISHING
His game… Her rules.
Promise Harbor Wedding, Book 3
Hockey star Jackson Knight has a hundred reasons not to return to Promise Harbor, but none of them are good enough to get him out of attending his best friend's wedding. Even with a career-ending knee injury, every puck-bunny in town will be gunning for him.
Worse, getting a pair of cuffs slapped on him at the bachelor party could ruin any chance of getting back in the game, even as a coach. Unless he can convince the arresting officer to smooth things over—by going to the wedding as his date.
Hayley Stone figures posing as Jackson's girlfriend is the least she can do to salvage his reputation. Plus, having a man with a toe-curling smile on her arm will keep her ex off her back.
What starts as a simple plan to deflect small-town pot-shots unexpectedly becomes a sizzling night that hits Jackson like a full-body-check to the heart. Now he's determined to prove that she's the best reason of all to come home—for good.
Product Warnings
Contains a fiery powerplay both on and off the ice, skin-tingling forced intimacy, interfering grandparents, bear costume hijinks, a haunted house and the kind of game-changing chemistry worth fighting for.
---
AVAILABLE 4/19/30 FROM SAMHAIN PUBLISHING
And she thought the bridesmaids dresses were her biggest problem…
Promise Harbor Wedding, Book 4
Allison Ralston would rather be anywhere other than this wedding. Even if
the wedding is hers. Especially since the wedding is hers.
But Allie's determined to restore her family's happiness, and if tying the knot with longtime family friend Josh Brewster is the way to do it, then she'll walk down that aisle, toss that bouquet and drink that champagne. Oh, she'll definitely drink the champagne.
There's only one thing that could get Gavin Montgomery back to Promise Harbor. And she's about to say I do to another man. Now he's back to claim what's his—even if he has to do it in the middle of her wedding.
Allie is shocked—and okay, a little turned on—when Gavin literally sweeps her off her feet. Safe in his arms, she succumbs to fatigue, stress, and yes, the champagne, only to wake up in his bed. In Alaska.
Now that he's put four thousand miles between Allie and all her responsibilities, Gavin's determined to show her that they can make a life together. If he has his way, the next wedding Allie will be planning will be theirs.
Product Warnings
Contains a guy so in love he's willing to break up the wedding of the season, a bride who just needs to get to, well, anywhere else, and enough hot sex to take them from New England to Alaska and back again.