MADELYNNE ELLIS
Madelynne Ellis is a multi-published British author of erotic romance. Her novels and short stories have been published by a variety of houses both in the UK and US, and have been translated into German, Spanish and Norwegian. She is best known for her Regency set novels but also enjoys writing contemporary and paranormal settings. Her aim is to deliver scorching, character-driven stories that enchant, torment and don't shy from darker aspects of life.
Madelynne lives in the UK with her partner of 20 years, their two adorable children and a chocoholic rabbit. When not writing she enjoys live role-playing, solving puzzles and hanging out with the Romance Divas online.
---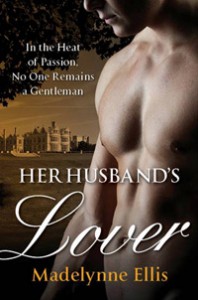 HER HUSBAND'S LOVER (Georgian Rakehells #5)
Published by Mischief / Harper Collins
ASIN # B00AAU7AEE
Publication Date: 21st March 2013
Historical Erotic Romance (mmf)
Novel
Emma Langley abhors physical contact, consequential she's shocked to her toes when she realises she attracted to one of her father's guests. Robert, Lord Darleston is like no other man she's ever met. He's flamboyant, charming and terrifies her as much as he arouses her. Nor is Emma the only person caught under his spell…
Forced into an arranged marriage to avoid exposure as a sodomite, Robert Darleston has a reputation as a rakehell and a voluptuary. His wife is a bitter, scheming harpy, whose rumor-mongering has already driven him from London into the heart of the English countryside. Here, fate unexpectedly reunites Darleston with his former lover, Lyle Langley. Torn apart by the intervention of their families, the primary barrier to their reunion is now Emma, Lyle's wife, a woman Darleston is fascinated by and has no wish to disrespect. All seems hopeless, that is, until Lyle admits that Emma is frigid and their marriage unconsummated.
Darleston proposes a plan… If he can just win Emma over, then maybe they can find happiness as a threesome. Old ghosts, a jealous wife, and an outraged father stand in his way.
Darleston made his first appearance in Phantasmagoria (2008, Virgin, Â Black Lace), and went on to play a significant role in Three Times the Scandal (2011, Ai Press). This novel casts him in the central role. It is currently scheduled for publication in March 2013 by Mischief, HarperCollins.