KRISTEN PAINTER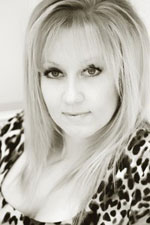 A little about me: I'm a former college English teacher, but I've held a crazy mix of other jobs including maitre'd for Wolfgang Puck, personal trainer, and sales for Christian Dior Bijoux. On the writing side of things, I'm a two-time Golden Heart finalist and have been on the board of three different RWA chapters. What can I say? I like getting involved. I'm not adverse to bossing people around either.
My forays into writing have been as varied as the jobs I've held. I've written poetry, articles for magazines, short stories, paranormal romances (that include fantasy, contemporary and steampunk genres) and now I've found a home with urban fantasy. I love worldbuilding and few genres give you the kind of license urban fantasy does.
I'm also the co-founder of the award-winning writer's site Romancedivas.com. I blog occasionally at www.fictionistas.blogspot.com and tweet at twitter.com/Kristen_Painter more often than I should. You can also find me on my Facebook author page here: www.facebook.com/KristenPainterAuthor
I live in FL with my retired Air Force husband and a horde of feline dependents. I'm represented by The Knight Agency.
Website: www.kristenpainter.com
---
Latest Releases: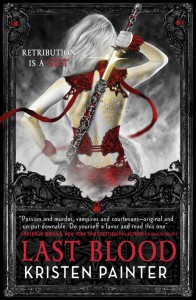 LAST BLOODÂ (House of Comarre book 5) Spring 2013
Gothic Urban Fantasy
BUY NOW:  Amazon   |  B&N
In the final showdown between the forces of dark and light, Mal and Chrysabelle face not only Tatiana, but the ancient evil that now controls her: the Castus Sanguis. Chrysabelle gathers her friends and family around her, forming a plan to bring an end to the chaos surrounding them. But the Castus is the most powerful being they've ever come up against. Defeating such evil will require a great sacrifice from someone on the side of light.
One of them will change sides. One of them will die. No one will survive unscathed. Can Chrysabelle save those she cares about or will that love get her killed? What price is she willing to pay to draw last blood?
---
Current Releases: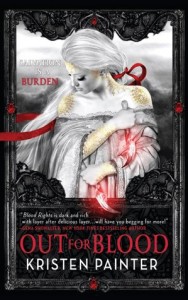 OUT FOR Â BLOOD
Gothic Urban Fantasy
October 2012
After nearly dying at the hands of the Aurelian, Chrysabelle finds new determination to move beyond life as a comarré. That is until the Kubai Mata bring a new task to her doorstep: rescue the child Tatiana has kidnapped, or Mal becomes enemy number one.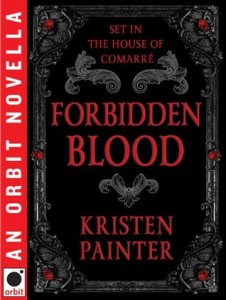 FORBIDDEN BLOODÂ (House of Comarre short story) Spring 2012
Set in the world of the House of Comarré, Kristen Painter gives us a new novella about the price of freedom.
Maris's life as a comarré has come down to three options: escape her patron and spend the rest of her days looking over her shoulder, fight him for her freedom with the understanding it could mean her death or undergo dangerous experimentation to transform her blood into something even more powerful.
Before she can make a decision, she discovers the vampire who's been charged with sunproofing her blood isn't so fond of her patron either. In fact, Dominic is unlike any vampire she's ever met, but is she desperate enough to put her trust in another noble? Her heart says yes…
BAD BLOOD
Gothic Urban Fantasy
December 2011
Redemption is a curse…
Samhain approaches, bringing with it the final melding of the mortal and othernatural worlds. No one knows just how much power the night holds…
Violent murders occur in Paradise City as counterfeit comarré are systematically hunted. The police and the Kubai Mata have more than enough trouble to keep themselves occupied. As war erupts at home, Malkolm and Chrysabelle head to New Orleans to recover the Ring of Sorrows. Chrysabelle is forced to make a life and death decision and will realize that her relationship to Malkolm may have fatal consequences.
The clock is ticking . . .
BUY NOW: Amazon | B & N

FLESH AND BLOOD
Gothic Urban Fantasy
November 2011
Sacrifice is a choice…
With the ring of sorrows still missing, and the covenant between othernaturals and mortals broken, Chrysabelle and Malkolm's problems are just beginning. Chrysabelle still owes Malkolm for his help, but fulfilling that debt means returning to Corvinestri, the hidden vampire city neither of them is welcome in.
The discovery that Chrysabelle has a brother could mean reneging on her promise to Malkolm, something that might make him angry enough to loose the beast living inside him. And fulfilling her vow could prove devastating for Chrysabelle — especially when you throw in power hungry witches, dead fringe vampires, and the Kubai Mata.
BLOOD RIGHTS
Gothic Urban Fantasy
October 2011
Rebellion has a price…

Born into a life of secrets and service, Chrysabelle's body bears the telltale marks of a comarré — a special race of humans bred to feed vampire nobility. When her patron is murdered, she becomes the prime suspect, which sends her running into the mortal world…and into the arms of Malkolm, an outcast vampire cursed to kill every being from whom he drinks.
Now, Chrysabelle and Malkolm must work together to stop a plot to merge the mortal and supernatural worlds. If they fail, a chaos unlike anything anyone has ever seen will threaten to reign.