JENNIFER LEELAND
I never considered myself a writer…..
I loved Harlequin romances when I was little and used to sneak them from my mother's bookshelf. But my father influenced me with Agatha Christie, Ngiao Marsh and Arthur Conan Doyle. I finally wrote my first completed novel in 2005 and never looked back.
It has been a fabulous journey. I have a special relationship with my characters, who both annoy me and inspire me. And yes, they talk to me. In the shower. In the car. When I'm trying to sleep. Many have asked me why I write erotic romance. Believe me, it would probably be easier to write something my mom could tell her friends about. But I love the emotion, the conflict, the possibilities contained in erotic romance. When I read, I want to indulge in fantasies. I hope I can do the same for others.
I live with a Redneck, who loves to brainstorm with me on occasion, and my two dirt faced Okie kids in the Northern California Boonies. I've published with Cobblestone Press, Liquid Silver Books, Loose-Id LLC., Samhain Publishing, and Whiskey Creek Press. I'm a moderator for the award winning writer's forum Romance Divas where I've been a member since 2006.
To learn more you can go to http://jenniferleeland.com
---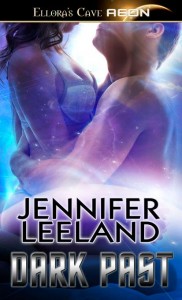 AVAILABLE FROM AMAZON Â | Â Â B & N Â | Â Â ELLORA'S CAVE
Once, Julianna had hoped for a wonderful life married to the man genetically compatible and the love of her life. But betrayal, civil war and death intervened and she was forced to let the man she loved go to save the people on Teran Four. Ten years is a long time and now, she is the dictator's lover and the Voice of Davida, a genetically enhanced tool of the reigning powers.
He'd escaped the brutal prison of Teran Four, but Bud Masterson is back to find family he'd thought was dead, murdered by the dictator who destroyed his life. It'a a trap and Bud finds himself at the mercy of the woman he'd once loved who betrayed him.
But nothing on Teran Four is what it seems and Julianna and Bud will discover that everything they know about their past and their future is an illusion. To save their people, and possible humanity itself, Julianna and Bud will have to find the truth that lies in their dark past.