J. S. SCOTT
J.S. Scott is a bestselling author of erotic romance. She's an avid reader of all types of books and literature. Writing what she loves to read, J.S. Scott writes both contemporary erotic romance stories and paranormal romance erotics. They almost always feature an Alpha Male and have a happily ever after because she just can't seem to write them any other way! She lives with her husband in the picturesque Colorado Rockies.
You can write to me at [email protected]
---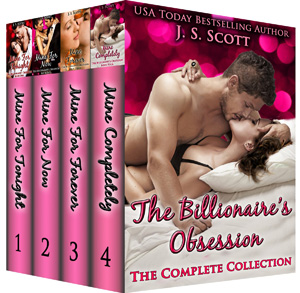 This complete collection of The Billionaire's Obsession includes:
Mine For Tonight
Mine For Now
Mine Forever
Mine Completely​
​
Down on her luck, nursing student and full-time waitress Kara Foster gets a massive blow to her already desperate financial situation that will surely find her living on the streets. Needing nothing less than a miracle to save her, Kara gets rescue from an unknown, unlikely and overwhelming source.
​
Billionaire Simon Hudson makes her an offer that is impossible to refuse, but terrifying to accept from a man that she's never met. Will the handsome, alpha billionaire really be a solution to her problems, or will he end up being a major complication and a danger to her emotional sanity?
​
Reclusive billionaire Simon Hudson would rather be behind a computer creating computer games than rubbing elbows with the elite and he knows exactly what he wants…until he meets Kara Foster. Something about Kara touches Simon in ways he's never experienced and definitely doesn't like. For over a year, Simon watches over Kara, but stubbornly refuses to admit his desire to possess her, not even to himself. But when she ends up in a situation that could very well be her destruction, Simon steps up to help her, not realizing that in saving Kara, he might very well be salvaging his own soul.
​
This is an erotic romance and is not intended for YA readers. It contains graphic language, explicit sex and other subjects not appropriate for YA readers.
---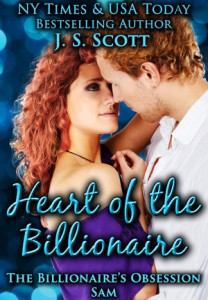 GENRE: Adult Contemporary Erotic Romance​
Author Note: This novel is the complete story of Sam and Maddie, but reading The Billionaire's Obsession – The Complete Collection (Simon and Kara's story) first is highly recommended to enhance your reading pleasure.
​
Sam and Maddie are here!
​
Billionaire Sam Hudson has pretty much lived his life with no apologies because he tries never to do anything that he's sorry about…except for what he had done in the past to Dr. Madeline Reynolds. Many years and regrets later, Sam meets up with Maddie again by chance; his brother Simon is marrying Maddie's best friend and the two of them are forced to be civil. But Sam wants to be more than polite, and he wants another chance to make things right, so he offers Maddie a bold proposition, an offer he knows she'll have a very hard time declining even though she hates him.
​
Dr. Madeline Reynolds adores her best friend Kara and her fiancé Simon, but being forced into the company of Sam Hudson, because they are both in Simon and Kara's wedding, is pure torture. She's hated Sam for years, but when he offers her a bargain, something near and dear to her heart, she's torn between her dislike for the man and the offer of something she's always desperately wanted. Once, Sam Hudson nearly destroyed her, but Maddie discovers that sometimes things aren't always what they appear to be. Is Sam really a devious heartbreaker, or is there something more to him beneath the surface?
​
Can two people with so many years of hurt between them learn to trust each other again?
​​
Please note: This is an erotic romance and not appropriate for YA readers. The book contains graphic sex, language and situations not appropriate for YA readers.
---