GEMMA HALLIDAY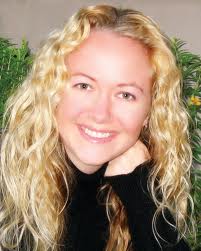 GEMMA had a hard time figuring out what she wanted to be when she grew up. She worked as a film and television actress, a teddy bear importer, a department store administrator, a preschool teacher, a temporary tattoo artist, and a 900 number psychic, before finally selling her first book, Spying in High Heels, in 2005 and deciding to be a writer.
Since then, Gemma has written several mystery novels and been the recipient of numerous awards, including a National Reader's Choice award and three RITA nominations. Her books have hit both the USA Today and the New York TimesBestseller lists.
Gemma now makes her home in the San Francisco Bay area where she is hard at work on her next book.
Website: www.gemmahalliday.com
---
PLAY NICE
St. Martin's Minotaur
AVAILABLE NOW!
First book in a brand new series!
She faked her death to escape life as an assassin. But now her enemies have tracked her down, and this time they want her to stay dead.
Anya Danielovich was a highly-trained killing machine in her former life. But that was a long time ago. Today she's just Anna Smith – a single, thirtysomething woman living in San Francisco with an undemanding day job, a loving, if dim-witted, dog, and a simple desire to lead a simple better life. But she's still haunted by her past – the people she killed, the mentor she betrayed, the woman she was. She's taken care to cover her tracks, but she's beginning to feel like she's being watched…
Nick Dade is a hired gunmanthe best of the best. He's read Anya's file inside-out and, after weeks of surveillance, he's ready to pull the trigger…until someone else beats him to the punch. With his agenda shattered, Nick suddenly finds himself thrown together with the woman he's been sent to eliminate. Who is she really? Who hired the second hit? And who can he trust? Together Nick and Anna find themselves embroiled in a web of deceit and desire as an unknown enemy – one with dangerous ties to Anna's former life, and a present-day political assassination – closes in. To unravel the truth, Anna must face her past even if that means risking both Dade's life and her own…for good this time.
---

SOCIAL SUICIDE
a young adult novel: ages 12 & up
Harper Teen
AVAILABLE NOW!
Twittercide [twit-er-sahyd]: the killing of one human being by another while the victim is in the act of tweeting.
Call me crazy, but I figured writing for the Herbert Hoover High Homepage would be a pretty sweet gig. Pad the resume for college applications, get a first look at the gossip column, spend some time ogling the paper's brooding bad-boy editor, Chase Erikson. But on my first big story, things went…a little south. What should have been a normal interview with Sydney Sanders turned into me discovering the Homecoming Queen-hopeful dead in her pool. Electrocuted while Tweeting. Now, in addition to developing a reputation as HHH's resident body finder, I'm stuck trying to prove that Sydney's death wasn't suicide.
I'm starting to long for the days when my biggest worry was whether the cafeteria was serving pizza sticks or Tuesday Tacos…