An Interview with Delilah Gregory, heroine from Love Me, Master Me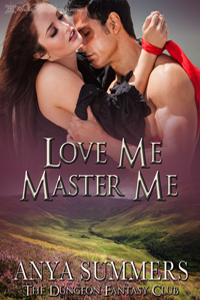 *RAFFLECOPTER GIVEAWAY*
BY ANYA SUMMERS 
What is your name? Do you have a nickname
My name is Delilah, but my friends and some of the Doms of the Dungeon Fantasy Club call me Dee.
Who is your best friend? What kinds of things do you do when you're together?
I would say the girlfriend I'm closest to is Amaya Taneka. Since we are both typically touring, we don't get much facetime, but when we do we are typically at a BDSM club together.
If you have a family, how do you get along with them? If you don't, are there people in your life that you consider family? How do you get along with them?
Yes, my parents and brother Seth. For the most part, we get along famously but they have a tendency to be a bit condescending toward me. I consider my friends in the club more my family though. They understand me better and don't pass judgement upon me regarding my looks.
Do you have a birthmark? Scars? Where is it/are they? How did you get it/them?
All my scars are of the internal, emotional variety. When you're considered plus sized, the verbal barbs and arrows tend to come from all angles.
When you're angry, what do you do? Where do you go? How do you deal with your anger?
I have a tendency to internalize my anger. It works well when I have nightly performances because then I funnel all my anger converting it into passion when I sing.
If you had to make me a meal right now, without going to the store, what would you find in your refrigerator to feed us?
I'm a big fan of soup and cheese. Right now though, I'm living in a hotel without a fridge, so I could order you room service. The menu here is fantastic and you could basically have whatever you want.
What's the one thing you're afraid of losing?
My passion for what I do, for performing on the stage.
What makes you laugh out loud?
I haven't had much to laugh about lately. But I'm a big fan of silly sitcoms. When I need a laugh, I have a few that are my go to relief.
Has anyone broken your heart? Who was s/he?
Yes. I recently walked in on my ex with another woman. Ethan was also my manager so it was a bit of a double whammy. It's safe to say he is no longer my manager.
What's the one thing you want out of life that you don't think you can have? Why can't you have it?
I don't think I will ever find a man who loves me as I am. Who doesn't want to fix me and try to mold me into something I'm not.
---
ABOUT THE AUTHOR
Born in St. Louis, Missouri, Anya grew up listening to Cardinals baseball and reading anything she could get her hands on. She remembers her mother saying if only she would read the right type of books instead binging her way through the romance aisles at the bookstore, she'd have been a doctor. While Anya never did get that doctorate, she graduated cum laude from the University of Missouri-St. Louis with an M.A. in History.
Anya is a bestselling and award-winning author published in multiple fiction genres. She also writes urban fantasy and paranormal romance under the name Maggie Mae Gallagher. A total geek at her core, when she is not writing, she adores attending the latest comic con or spending time with her family. She currently lives in the Midwest with her two furry felines.
Visit her website here:
www.anyasummers.com
Visit her on social media here:
http://www.facebook.com/AnyaSummersAuthor
Twitter: @AnyaBSummers
Goodreads: https://www.goodreads.com/author/show/15183606.Anya_Summers
Sign-up for Anya Summers Newsletter
Facebook Link: http://gvwy.io/gpeoorq

---
Rafflecopter Giveaway- 5 Ebook copies of Love Me, Master Me
a Rafflecopter giveaway
---
LOVE ME, MASTER ME (Dungeon Fantasy Club, Book 6)
Delilah Gregory is an opera superstar, enchanting the world with her soaring voice and voluptuous form. When her long-time friend, Declan, asks her to perform at his wedding, she can't refuse, and heads to Mullardoch Manor in Scotland. She's looking forward to finding a Dom to play with while she's there, although with the demands of her career, and still recovering from her ex's betrayal, the last thing on earth she's looking for is an actual relationship.
Bastian Dean is a rock star, playing to sold-out stadiums worldwide. His bedroom tastes have always been on the wild side, and the only way he can find satisfaction is when he has a bound submissive begging for his touch. Unlike most rock stars, he keeps his dalliances to bona fide members of the Dungeon Fantasy Club – and as far away from the tabloids as possible. When he meets the ethereal beauty Delilah at the manor, Bastian is determined to enjoy the beautiful, submissive woman's bounty.
Delilah is stunned by the ecstasy she finds within Bastian's arms. She doesn't even like the man much – aside from what he can make her feel even as he disciplines her bare bottom. But despite her misgivings about him, what starts out as a bit of fun and play in the dungeon soon turns into a relationship, where Delilah finds herself healing under Bastian's passionate touch.
When the demands of her career and a threat from her past intervene, Bastian must use every note in his arsenal to convince Delilah that theirs is a duet worth singing. But can she be convinced to trust him with her heart?
Publisher's Note: While this is the sixth book in the Dungeon Fantasy Club series, it – like all the others – can be enjoyed as a standalone. This story contains explicit erotic and BDSM scenes, so if such material is likely to offend you, please do not read it.
Available at:
Amazon  https://goo.gl/QlTE9u
Blushing Books  https://goo.gl/xJEsov
All Romance Ebooks https://goo.gl/MVM4xo
---
Don't miss these exciting titles by Anya Summers and Blushing Books!
Dungeon Fantasy Club Series
Love Me, Master Me, Book 6, September 16, 2016
Submit To Me, Book 7, October 15, 2016
Her Wired Dom, Book 8, November 14, 2016