An Interview with Katherine Locke from Heart of Desire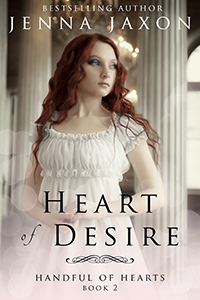 BY JENNA JAXON
What is your name? Miss Katherine Locke Do you have a nickname? My friends and family usually call me Kate.
Where were you born? I was born in Somerset, England. Where have you lived since then? Our primary residence is in Somerset, however, we have a townhouse in London where we stay during the Season and the Little Season, and various estates around the England. We visit them occasionally. Where do you call home? Somerset
If you have a family, how do you get along with them? I have a brother, with whom I get along rather well, if he doesn't try to meddle in my business. We spar verbally quite often, but it's more in fun than in anger. Unless he tries to tell me what to do. If you don't, are there people in your life that you consider family? How do you get along with them?
What's the one thing you're afraid of losing? My reputation. A woman's reputation, once lost cannot be reclaimed. Why? A woman who loses her reputation is beyond the pale in ton Society. She would be shunned by everyone. Unfortunately, as marriage is considered a woman's duty, she is also looked down on if she does not marry. As I am now in my third Season, it would seem I am in some danger of becoming a spinster, which makes the next three months my last chance to entice a man to court me.
You're doing intense spring cleaning. A woman of my station does not "clean." What is easy for you to throw out? What is difficult to part with, and why? There is usually no need to discard my possessions. When I marry, my things will be taken to my new home, unless they are worn out, in which case they will be replaced.
Do you have a secret? I am very attracted to a newcomer to the ton. Lord Finley is quite a handsome man and one who I have not yet offended. He could prove the answer to all my prayers. If so, who do you need to keep the secret from and why? Unfortunately, I need to keep this secret from my cousin, Lady Celinda Graham, who has set her cap for Lord Finley as well. I would do nothing to hurt my cousin, even though it's most unfair because I saw Lord Finley first!
What makes you laugh out loud? Lord Haversham, when he isn't irritating me with his antiquated ideas about dancing. What makes you cry? The idea that I may indeed end up a spinster.
It's Sunday morning. What are you doing? Give details. My brother, Lord Ainsley, and I attend church at St. George's when we are in London, and our parish church when we are in Somerset. Afterwards perhaps a bite of luncheon, and a carriage ride in the park if it is fair. Reading if it is not. In the country I might walk about the grounds or ride over the estate. Sunday is much more of a slow day than others.
Has anyone broke your heart? Yes. Who was s/he? That would be telling.
What's the one thing you want out of life that you don't think you can have? A husband who loves me, but doesn't bore me. One who will keep the conversation lively and interesting. Why can't you have it? Because I have burned far too many bridges, arguing with gentlemen who are much less witty than they think they are. The only one who has any stimulating conversation, Lord Haversham, also has a high opinion of himself and is quite unmovable when it comes to determining when his sister can and cannot dance. I fear we disagree far too much to ever suit.
---
ABOUT JENNA JAXON 
Jenna Jaxon is a multi-published author of historical  and contemporary romance.  She is currently finishing revisions to  her fifth full length novel, To Woo A Wicked Widow, set in Regency England and the first book in her five part series, The Widow's Club.
Only Marriage Will Do, second book in her Georgian  House of Pleasure series is with the editor. Her medieval trilogy, Time Enough to Love, is being published by Rising Phoenix Publications. Book 1, Betrothal is currently available.  Book 2, Betrayal, will be available later this fall.
Jenna has been reading and writing historical romance since she was a teenager.  A romantic herself, she has always loved a dark side to the genre, a twist, suspense, a surprise.  She tries to incorporate all of these elements into her own stories. She lives in Virginia with her family and a small menagerie of pets.  When not reading or writing, she indulges her passion for the theatre, working with local theatres as a director.  She often feels she is directing her characters on their own private stage.
She has equated her writing to an addiction to chocolate because once she starts she just can't stop.
https://jennajaxon.wordpress.com
---
HEART OF DESIRE
Follow your heart to find your desire 
Miss Katherine Locke is irked to start her third season dancing with the disagreeable Lord Haversham, her brother's friend and her own arch enemy. After three years out, however, she's finally interested in the dashing Lord Finley—only to find out her cousin has set her cap for him too. To make the man jealous, Kate feigns interest in Lord Haversham, only to be shocked to find the handsome lord apparently falling for her. With time running out, should she accept his suit and risk falling in love despite herself?
Marcus, Lord Haversham, is in a tight pinch. His estates are failing and worse, he's just lost three thousand pounds to his best friend, Lord Ainsley. Ainsley's solution: have Marcus marry his shrewish sister and he'll cancel his gambling debt plus give him ten thousand more pounds for her dowry. With nowhere to turn, Marcus agrees, praying he can keep word of the wager from Miss Locke long enough to charm her into marrying him. But can he avoid falling in love himself?