Author Interview with Melissa West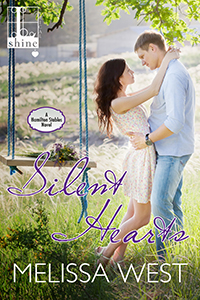 **RAFFLECOPTER GIVEAWAY**
Where did you get the inspiration for your series/book?
The original inspiration began with an article I read about the first woman to have a shot at winning the Kentucky Derby. That article led me to write RACING HEARTS, the first book in the series, and the series grew from there.
Who is the celebrity who inspired the characters in your latest book?
In my head, Nick, the hero in SILENT HEARTS, looks a lot like Ryan Gosling with glasses. Becca, my heroine, reminds me a lot of Evangeline Lilly.
What genre(s) do you write in & why?
I write teen sci-fi, contemporary New Adult, and contemporary romance, but all of my stories are set in the South, so I will generally say I write Southern fiction or Southern romance if asked. I love Southern culture and the way a community becomes an extended family. I love quirky characters and the deep history the h/h will often have with one another. Combined, it makes for a fun read!
Are there any particular locations you have traveled to that have made it into your novels?
Not particularly, though I have one series set in Charleston, SC. I prefer to create fictionalized towns with their own rules.
What is your go-to snack or meal when you are on deadline?
Coffee is a must for me, and when I'm on deadline, I will often make a fresh cup at 10-11 PM at night to work after my kids are bed. Aside from that, I love smoothies!
How many more books do you have planned in the series?
SILENT HEARTS is the last book in the Hamilton Stables series, but a spin-off series will begin in January of 2017 and run through 2017/2018.
What would the theme song for this novel be & why?
Do You Think About Me? By Carrie Underwood
Do you have any other upcoming releases that readers should know about?
The next book in my new adult series will release in July, titled NO FALLING ALLOWED, and then the next book in my Maple Cove series will release in November, and then the first book in the Littleton Brothers series, FIGHTING LOVE, will release on January 24th 2017.  I like to keep busy! 🙂
---
ABOUT THE AUTHOR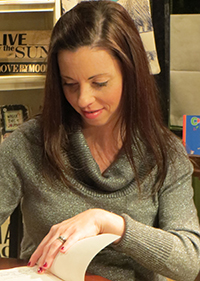 Melissa West writes heartfelt Southern romance and teen sci-fi romance, all with lots of kissing. Because who doesn't like kissing? She lives outside of Atlanta, GA with her husband and two daughters and spends most of her time writing, reading, or fueling her coffee addiction.
Connect with Melissa at www.melissawestauthor.com
---
SILENT HEARTS
Nick Hamilton has always known he'd take the reins of the family business when his father died, but that doesn't make it any easier when the time comes. Especially with his two siblings tempted by a shrewd offer from a huge corporation to buy Hamilton Industries. Needing advice, Nick turns to his sensible childhood friend, Becca Stark—and finds her suddenly grown-up beauty ignites brand-new confusion, and crystal clear desire…
Becca has loved Nick for as far back as she can remember, but she decided long ago that telling him would be a mistake. Stubborn, strong Nick doesn't see her as anything but the tomboy she used to be—or does he? As she helps him untangle his feelings about the ranch's future, the familiar bond between them heats into an explosive attraction—and the kind of love that just might take the lead…
AMAZON  | ? BARNES & NOBLE  |  iBOOKS  |   KOBO