Mixing Humor & Romance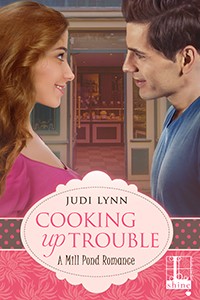 **RAFFLECOPTER GIVEAWAY**
BY JUDI LYNN
When I decided to write COOKING UP TROUBLE, I wanted to add a healthy dose of humor to the romance.  The thing is, I don't consider myself very clever or witty, so it seemed like a challenge.
And then I remembered hearing Dorothy Cannell on a mystery panel.  Her book, The Thin Woman, cracked me up, but she insisted that when she wrote the scenes, they didn't strike her as funny.  Once, a scene even made her cry, but when her readers savored it, they couldn't stop laughing.  That thought comforted me, but I was still worried.
Then I thought about something Shirley Jump had said at a romance workshop.  I enjoyed her books DYING FOR CHOCOLATE and THE DEVIL SERVED TORTELLINI, both funny.  She didn't think she could write humor, either, so she made lists of words that she thought would bring a smile or giggle.  She thought about taking regular situations and giving them a humorous twist.
What the heck? I decided.  It was worth a shot.  For me, though, humor is a slippery thing.  It's subjective.  I thought Kurt Vonnegut's DEADEYE DICK was hilarious.  The friend I loaned it to, not so much.  Another friend loved Elizabeth Peters's Amelia Peabody series.  It wasn't quite my cup of tea.  But then, really, all of writing is subjective, isn't it?  What one person loves, another might loathe.
So I decided to go for it.  And I'm so happy I did.  I'll never be a stand-up comic, and I don't have the sly humor of M. C. Beaton's Hamish Macbeth, but I do like to chuckle at life.
---
ABOUT THE AUTHOR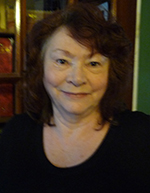 When some people think of Indiana, they think of corn—which we have a lot of.  But to me, Indiana is green—lush, beautiful, vibrant greens—so I use fictional towns and plunk them in an Indiana setting for a lot of my stories.  I love cooking and gardening, and those sneak into my novels, too.  I've collected more strays than I deserve.  I'm a fan of Agatha Christie and urban fantasy, and I believe in happy ever after.
Website:  http://www.judithpostswritingmusings.com/
Blog:  http://writingmusings.com/
My twitter handle:  @judypost
My Facebook author page:  https://www.facebook.com/JudithPostsurbanfantasy/
---
Rafflecopter Giveaway- Ebook copy of Cooking Up Trouble
a Rafflecopter giveaway
---
COOKING UP TROUBLE
Tessa Lawrence swore off men when she found her fiancée in the arms of another woman.  These days, she concentrates on caring for her small farm and running a bakery and farm stand out of its barn.  Ian McGregor moves to Mill Pond to build a resort on the property next to Tessa's.  Tessa's fine with that.  Mill Pond's trying to attract more tourists.  The problem is, Ian understands business, but he's never changed a tire or pounded a nail.  She finds herself helping him more than she expected, and spending time around Ian is a dangerous proposition.  The man's far too good-looking and fun to be around.
Purchase Links:  http://www.kensingtonbooks.com/book.aspx/32318