Men in Kilts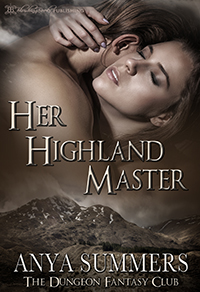 **RAFFLECOPTER GIVEAWAY**
BY ANYA SUMMERS
Scottish men. Sigh. What red-blooded woman could resist a muscled man swathed in plaid with his muscled chest bare? I have always had a thing for Scottish men. Show me a man in a kilt, and I am likely swooning at their impressively sized feet. There's just something about their fierceness of heart, their ability to turn a phrase with their Scottish burr that makes my toes curl. Those traits along with their propensity to celebrate their storied family names that make them so swoon worthy to me.
Last fall I had the opportunity to attend the Highland Festival in Estes Park, Colorado. And hello highlanders. I was in absolute utter heaven. There is just something so primal about watching a man toss trees for sport. They make Football superstars look like toddlers by comparison.
While I've always loved men in kilts, Hello, Jamie Fraser, I'm also admittedly a twenty-first century woman. I love modern conveniences like bathrooms, vaccines, hygiene, and the right to vote. So for me to truly write about meeting my fantasy kilted hero, it would have to be a modern twist on the love story.
When I first had the inspiration for my new erotic romance series, the Dungeon Fantasy Club, I wanted to write about one of my favorite types of men. I owed it to my own sensibilities as I ventured into the erotic world of BDSM to have a hero that I and my strong-willed heroine could fall in love with. I wanted a rugged Scotsmen with a beard who could wear the heck out of a kilt. Enter my hero, Declan McDougal, he is brawny and brash, able to toss tree trunks and make sane women scream like tweens at their favorite boy bands, a billionaire, and a total alpha Dom.
---
ABOUT THE AUTHOR
Born in St. Louis, Missouri, Anya grew up listening to Cardinals baseball and reading anything she could get her hands on. She remembers her mother saying if only she would read the right type of books instead binging her way through the romance aisles at the bookstore, she'd have been a doctor. While Anya never did get that doctorate, she graduated cum laude from the University of Missouri-St. Louis with a M.A. in History.
Anya is a Bestselling and Award-Winning Author published in multiple fiction genres. She also writes urban fantasy and paranormal romance under the name, Maggie Mae Gallagher. A total geek at her core, when she is not writing, she adores attending the latest comic con or spending time with her family. She currently lives in the midwest with her two furry felines.
Visit her website here:
www.anyasummers.com
Visit her on social media here:
http//www.facebook.com/AnyaSummersAuthor
Twitter: @AnyaBSummers
---
Rafflecopter Giveaway- 5 ebook copies of Her Highland Master
---
HER HIGHLAND MASTER
Zoey Mills's life is in shambles. She's been accused of leaking her upper crust Hollywood clients' data to an online magazine for a large payday. After a wine and chocolate-filled evening of drowning her sorrows, she determines that her best course of action is to leave her home in sunny Los Angeles for a week-long vacation in the Scottish Highlands. It's the only way she can escape from the fact that her image is being splashed across the nightly news – and it might actually give her a chance to consider what her next move should be, now that her Great Master Life Plan has disintegrated into dust.
Unfortunately, she's only just landed and is navigating the tiny roads in her rental car when a freak early autumn snow storm hits. Zoey finds herself stranded and winds up on the doorstep of Mullardoch Manor; home of the sexy Scotsman, Declan McDougal, who is her every dark fantasy brought to life.
Declan is one of the founding members of The Dungeon Fantasy Club. As a billionaire businessman and a Dom, he prefers to keep his sexual preferences and tastes away from the boardroom. He's also become bored, not just with the club, but also with his life. None of the subs he meets can hold his interest for more than a night and it's been that way for a long time. He just never wants more than a brief encounter. At least, not since his ex-fiancée cheated on him with another Dom and ran away. However, that all changes when Zoey barrels into his home uninvited and upends his luxurious but stale existence.
When Zoey finds herself without a place to stay, Declan makes her a tantalizing but scandalous offer: Stay in his home for the week, free of charge, and spend each night warming his bed. Or any other time of the day, for that matter. Deciding she doesn't have much to lose and possibly everything to gain, Zoey accepts.
With Zoey's every sweet subsequent cry of ecstasy, Declan uncovers a sub who warms not only his bed, but slowly thaws his frozen, scarred heart. And as Zoey explores her deepest fantasies, even as he spanks her bare bottom for disobeying his rules, she finds herself wanting more than just a week of unmitigated pleasure with the Dom.
Things seem to be progressing perfectly, both in bed and out, when Zoey's past catches up with her. When he feels betrayed once more, and fears the woman he has grown to care for is not who she says she is, will Declan still be willing to risk his heart to become Her Highland Master?
Available at: AMAZON          Blushing Books
---
Don't miss these exciting titles by Anya Summers and Blushing Books!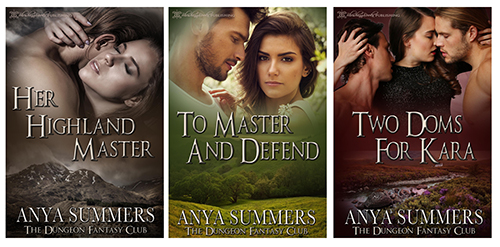 Dungeon Fantasy Club Series
Her Highland Master, Book 1, April 15, 2016
To Master & Defend, Book 2, May 15, 2016
Two Doms for Kara, Book 3, June 12, 2016
His Driven Domme, Book 4, July 2016
Her Country Master, Book 5, August 2016
Love Me, Master Me, Book 6, September 2016
Submit To Me, Book 7, October 2016
Her Wired Dom, Book 8, November 2016