Finding Your Writing Niche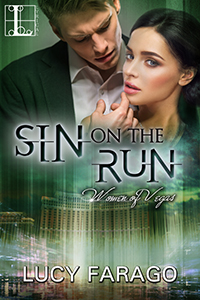 **RAFFLECOPTER GIVEAWAY**
BY LUCY FARAGO
Who doesn't want the girl from the wrong side of the tracks to find her Prince Charming? Really, who doesn't want their own Prince Charming? Now, how fun would it be to blend the romance with a great suspense? This is why I wrote Sin on the Run and why I chose to write romantic suspense.
I started off as a paranormal historical writer. I have a tiny thing for men in kilts and I'm a huge Trekkie. It seemed like a good fit. But puzzles, of any kind, fascinate me. I like finding solutions and I love surprises. I never asked the sex of my unborn children but it was fun to hear the old wives' tales people would claim as backup for their own prediction. Because come on, you can't get more scientific than a wedding ring on a string and twirl over your protruding belly. Although once, I did see it spin one way and then reverse. Lo and behold the woman was carrying twins. But I digress.
I like straight contemporary's too. Susan Elizabeth Phillips is one my favorites. Maybe one day I'll take one on. But for now I'll stick to romantic suspense. It isn't an easy genre. In my opinion, you have to write two stories and then find a way to make the seams disappear. And it's a must to keep the reader guessing. The best compliment a fan can give me is that they didn't see it coming. It's thrilling to hear and makes all the hard work that goes into writing a romantic suspense worth it, like hosting a surprise party without the guest of honor finding out.
How many people can say they spend their days plotting murders? I'm not sure what it says about me, but it can be rather relaxing at times. Sin on the Run was fun to write. I fell in love with the feisty stripper the moment I first introduced Rhonda in book one of the series. And of course, going back to my historical roots, I got my Scottish hero. But I must have changed the ending four times. On my second draft I had one of those ah-ah moments and I finally settled on the end product. It meant going back and rewriting several scenes but I think it was worth it. But that's what's so great about writing in this genre, I surprise even myself.
---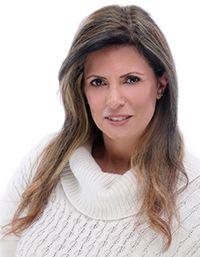 Lucy Farago knows there is nothing like a happy sigh at the end of a good book. With the encouragement of her loving husband, she wrote her first manuscript. An unpublished historical, it sits in a file on her computer, there to remind her how much fun she had learning the craft and becoming part of an industry whose books make you believe anything is possible. A big fan of Agatha Christie, she set out to write her first romantic suspense novel. Thrilled to be a published author, Lucy also teaches yoga, enjoys cooking, and saying what other people are thinking. In her fantasy world, her beautiful Siberian husky, Loki, doesn't shed and her three kids clean up after themselves. Alas, that fantasy will never see fruition.
---
Rafflecopter Giveaway – Ebook copy of Sin on the Run
---
SIN ON THE RUN
There are some secrets even Las Vegas's 24/7 glitter can't hide. Lucy Farago's dazzling new series ups the ante as a fiery stripper fights to protect an elite detective from danger–and both their killer pasts…
Living in the red-hot now is how Rhonda Deagan survives. Onstage, this sexy Goth stripper always stays on top, no matter how much her real-life dreams shatter. So why not risk a scorching fling with a gorgeous groomsman after her best friend's wedding? Too bad Blake Cameron is in someone's lethal sights. And saving this cool-headed investigator's life just put Rhonda on the run with him–and on his personal, oh-so-seductive hit list…
For Blake, figuring out who doesn't want him dead is easier than keeping his new raven-haired friend safe. The only way he can buy time to out-think their pursuers is to hide them both in the aristocratic world he thought he'd escaped. But there's no escaping the incendiary attraction between him and Rhonda. Walking the knife-edge between desire, lies, and naked truth may be their best chance to live–if it doesn't cut too deep to survive…
Amazon | Nook | iBook | Kobo | Books-A-Million