Putting the Romance First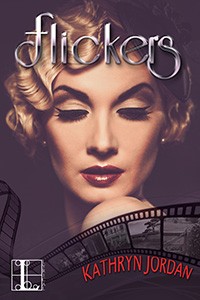 ** RAFFLECOPTER GIVEAWAY**
BY KATHRYN JORDAN
Every book I've ever written contains a love story, some romantic, some tragic.  My other writer self, Katharine Kerr, has had to keep these love stories secondary, however, because she writes science fiction and historical fantasies, genres where the action and the magic takes center stage.  As Kathryn Jordan writing FLICKERS, I finally could put the romance at the heart of the novel.
Or romances! Jack and Violet have loved each other since they were children, but her wealthy family has pressured her into marrying some more "respectable" and certainly richer.  Beth has fallen madly in love with Tip, Violet's brother-in-law.  But Tip loves someone else, someone forbidden to him by all the rules of his society, back in 1915.  And then there's Maury, Violet's husband, who's too busy making money to fall in love with his wife – until it's too late, or is it? Only sensible Carrie has married the right man, and even she has a tragedy to overcome.
I've thoroughly enjoyed writing this long and complicated historical novel that centers on characters and their hearts. In fact, I may well write another one soon!
A quick word on my name, Kathryn Jordan.  Jordan was my much-loved grandmother's maiden name, and I chose it to write under before I knew that there's another writer named Kathryn Jordan.  You might like her books, too, though, as they're real Romances.
---
ABOUT THE AUTHOR
Kathryn Jordan lives in the San Francisco Bay Area with her husband, two cats, and a vagrant skunk.  Although she spent her childhood in a Great Lakes industrial city, she became a confirmed Californian at age nine, when her family relocated to Santa Barbara, the "Santa Luisa" of the novel.  All it took was one winter without five feet of snow turning into black urban slush to convince her that the move had been worthwhile.  FLICKERS, her first historical novel, is a new departure for her career. Under the name of Katharine Kerr, she's also the author of the Nola O'Grady series of light-hearted urban fantasy novels.
Website: http://deverry.com
Twitter: @kit_kerr
Facebook: https://www.facebook.com/Kathryn-Flickers-Jordan-663343223805412/
https://www.facebook.com/Katharine-Kerr-173151512741221/
---
Rafflecopter Giveaway – Ebook copy of Flickers
---
FLICKERS
Set in the dynamic years leading up to the Roaring Twenties, Flickers turns its lens on California's glamorous silent film era, as Victorian civilities are swept away by a bold new century . . .
Violet Winters is the daughter of one of California's wealthy robber barons.  Jack Sutter is the gardener's son.  In their youth, the two were inseparable. But in 1913 everything is changing, and despite their feelings for each other, adulthood has come between them. Their vastly different social positions leads Violet to marry the aloof but socially perfect Maury Rediston. Jack vows to win Violet back while carving out a new life for himself in the burgeoning motion picture industry.  Tip Rediston, Violet's brother-in-law, also gets drawn into the bohemian world of the flickers. As handsome as he is troubled, Tip starts his climb to stardom despite his family's disapproval.  But as social changes, political upheaval, and war change the world around them, Violet, Jack, and Tip learn that things are never as easy as they seem on the silver screen. . .
AMAZON |  BARNES & NOBLE  | GOOGLE  |  KOBO  |  BOOK DEPOSITORY |  AMAZON UK