The Modern Prince Charming
**RAFFLECOPTER GIVEAWAY**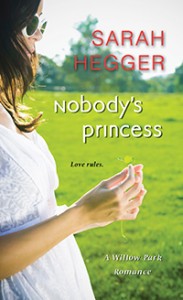 BY SARAH HEGGER
It's become more complicated to write that swoon-worthy hero for the woman of today. Tiffany is trying desperately to find Mr. Right, and her journey is familiar to many modern women.
Who is Mr. Right really? Does he have blue eyes, sandy hair, is he a surfer, a doctor, does he cook or just grill, is he allergic to seafood, does he watch Game of Thrones? Does the man meant for you meet the criteria on your checklist or is he nothing like you expected. Is there even just one man out there for you, or are there male multiples, each one coming into your life at the appropriate moment, but none staying forever. There is no cookie cutter scenario, Prince Charming isn't the epitome of fulfillment for all women, and the right thing for a modern gal isn't so cut and dried.
It's liberating to know our choices are limitless, but is it also a little terrifying? The women of 2016 have a lot to be grateful for. But perhaps we long for a simpler time when the man of our dreams was a reliable concept. Out there somewhere, was The One. The missing puzzle piece, and when he arrived everything would fall into place. But what if it didn't? Whose fault would it be if eternal happiness didn't ensue? Oh, the agony! Keeping up appearances was all that mattered. In the age of Facebook, the image we project may be equally stressful. The right status updates and posed photos are the modern day equivalent of the immaculate houses of 50s housewives, or the shiny convertibles in which one had to be seen riding in the 80s. Maybe we still want that perfect image, the man candy smiling breezily at our side on a sunny beach for all of social media to peer at jealously.
Somehow, it seems that's not the whole story. Some women do have a checklist, and they review it strictly, but there is no substitute for a deep connection. If Prince Charming listened to Cinderella's hopes and dreams, nodded along as she complained about a co-worker, brought her chicken soup in bed when she was ill, then we would all still be riding the fantasy chariot into a future filled with hope that he was out there. He made her feel warm and fuzzy, but did he support her ambitions, did he encourage her when she needed a boost or sympathize when things had all just become a little too much? Modern love is messy and complicated, so it's no surprise that many of us have given up the notion that meeting an arbitrary set of criteria equals love. We've all heard that "it happens when you least expect it." Well, maybe that's because you adore the gift, but you couldn't have predicted how it would come wrapped.
In the end, we have come to accept that modern life is full of twists and turns and detours, sometimes the path less traveled and at other times a paved road. We aim high, we work hard, we pursue our dreams and we strive for personal growth as one of life's main objectives. And of course, we still look for love. But what we seek is a partner to mirror our values, to stand by us as we endure the struggle. We don't expect him to hand us anything, a crown, a glass slipper, keys to the kingdom. But we may want him to cook dinner occasionally after a long day, and to be patient while we're trying on shoes. What more could we ask for?
---
ABOUT THE AUTHOR
Born British and raised in South Africa, Sarah Hegger suffers from an incurable case of wanderlust. Her match? A hot Canadian engineer, whose marriage proposal she accepted six short weeks after they first met. Together they've made homes in seven different cities across three different continents (and back again once or twice). If only it made her multilingual, but the best she can manage is idiosyncratic English, fluent Afrikaans, conversant Russian, pigeon Portuguese, even worse Zulu and enough French to get herself into trouble.
Mimicking her globe trotting adventures, Sarah's career path began as a gainfully employed actress, drifted into public relations, settled a moment in advertising, and eventually took root in the fertile soil of her first love, writing. She also moonlights as a wife and mother.
She currently lives in Littleton, Colorado, with her teenage daughters, two Golden Retrievers and aforementioned husband. Part footloose buccaneer, part quixotic observer of life, Sarah's restless heart is most content when reading or writing books.
She loves to hear from readers and you can find her at any of the places below.
Website: http://sarahhegger.com
Facebook: https://www.facebook.com/sarahheggerauthor/?ref=hl
Amazon Author Page: http://www.amazon.com/Sarah-Hegger/e/B00KC50U9Y/ref=sr_ntt_srch_lnk_1?qid=1449772560&sr=8-1
Twitter: https://twitter.com/SarahHegger
Tumblr: https://www.tumblr.com/blog/sarahhegger
Instagram: https://www.instagram.com/sarahheggerauthor/
---
NOBODY'S PRINCESS RELEASE TOUR MEGA-GIVEAWAY Rafflecopter
Prizes: 
5 x paperback copies of Nobody's Princess
5 x ebook copies of Nobody's Princess
1 x $50 Amazon Gift Cards
2 x $20 Amazon Gift Cards
3 x $10 Amazon Gift cards
---
NOBODY'S PRINCESS
 Sarah Hegger is back with another delightful Willow Park Romance, but this time the road to love might be a little bumpy…
Tiffany Desjardins has a plan. Well, she had a plan, until her past and all its complications came back to haunt her. Her not-quite-ex-husband, Luke, is missing, and suddenly everyone needs to find him–including Tiffany, if she wants to marry the true man of her dreams. Then there's Thomas Hunter, Luke's brawny friend, who won't take "no road trip" for an answer–and who won't stop showing up in her daydreams…
Thomas couldn't care less about Luke's personal life, but he needs to find him if he's going to make his fledgling minerals and metals company a reality. And if that means following Tiffany, who's taken off in Luke's rare Lamborghini Miura, he's more than willing–especially if there might be a chance to negotiate some of Tiffany's lovely curves. As Tiffany and Thomas speed along without a map, the only destination that seems certain is being together…
"Sarah Hegger's voice is rich and witty and in a word, addictive."–Terri Osburn, author of the bestselling Anchor Island series