Casting Call
**RAFFLECOPTER GIVEAWAY**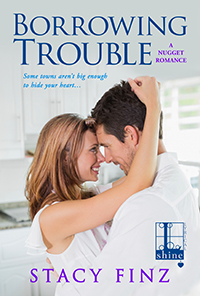 BY STACY FINZ
I'm a visual person. When I'm dreaming up characters for a new book I like to hang pictures in my office of what I think they look like. Someone to stare at when I need inspiration.
Because I'm woefully ignorant about the names of current Hollywood stars, this usually involves me Googling things like "hot cowboys" or "curvaceous blondes" or "that guy in Magic Mike XXL," which inevitably leads me to porn sites. Anyone getting a look at my computer cookies would probably think I'm a registered sex offender.
I'm not, I promise.
What winds up working out best is going straight to Google images where dozens and dozens of pictures come up applying to whatever my search term is. That's when my casting call begins. I never realized this about myself but I'm picky. Sometimes it takes me hours to find the right person. And other times I nail it in one. Like in my last Nugget book, Getting Lucky, I needed someone blond, stacked and slutty to play the wicked Raylene Rosser. Hint: My inspiration is an actress and her first name starts with a "T" and her last name an "R." That's all I'm saying. Feel free to guess in the comment section.
For my current novel, Borrowing Trouble, it was not as easy. My hero is a chef who has tattoo sleeves. First I tried "tattooed actors." There were some, but none appealed to me. So I tried "tattooed rock stars." Adam Levine. Yeah, maybe. Then I tried "tattooed sports figures." Of course David Beckham came up and he's not too shabby. But ultimately I plugged in "tattooed chefs" and my hero's look alike magically appeared. I can't even tell you who he is because he's no one famous. Not Gordon Ramsey nor Tyler Florence nor Jamie Oliver. He's just some hot guy in chef whites and a lot of crazy tattoos.
But you, fair reader, can imagine him any way you like.
---
ABOUT THE AUTHOR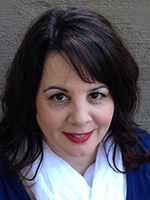 Stacy Finz is an award-winning former newspaper reporter. After more than twenty years covering notorious serial killers, naked-tractor-driving farmers, fanatical foodies, aging rock stars and weird Western towns, she figured she finally had enough material to launch a career writing fiction. She is the author of the Nugget Romance series (Kensington/Lyrical Press) about a small mountain town that has a strange way of giving people unexpected reasons to start over and find the most irresistible chances to fall in love.
---
Rafflecopter Giveaway – Ebook copy of Borrowing Trouble
---
BORROWING TROUBLE
In the beautiful mountain town of Nugget, California, staying out of the limelight is easy, but staying out of love is a bit more challenging…
Back in Los Angeles, Sloane McBride was a great police detective, but after she uncovered corruption on her own squad, the job became nearly impossible. In the bucolic hills of Nugget, she can start to imagine a life after all that, where she keeps her head down, does her work, and doesn't bother anyone. But her delicious next door neighbor isn't going to make it easy to keep to herself…
Brady Benson's wildest dreams came true in LA—but they were paired with a living nightmare. As executive chef of a searing-hot restaurant, he was lauded, adored… and then found himself caught in the sights of a lovelorn stalker. Now, laying low in Nugget, he finds his own heart ensnared by the beautiful new cop with her own reasons to start over.
Neither Sloane nor Brady came to town looking for love, but it seems to have found them. Trouble is, so have their pasts. And they'll have to stop hiding from both if they hope to come out the other side together…
Praise For Stacy Finz
"Finz is a unique new voice. Nugget, California is a charming small town filled with inventive characters and sweet romance."–Jill Shalvis, New York Times bestselling author of the Lucky Harbor Series
"Tender and touching, Stacy Finz writes romance with heart."–Marina Adair, #1 National bestselling author of Summer in Napa