Not Your Usual Cowboy Romances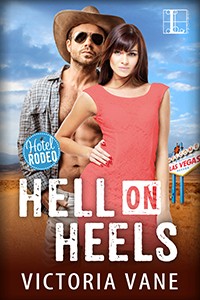 **RAFFLECOPTER GIVEAWAY**
BY VICTORIA VANE
What do you get when you combine a former rodeo stock contractor with a lotta cowboy attitude, a hard-as-nails no nonsense New York investment banker, and a Las Vegas hotel that's seen better days?
Hotel Rodeo, a smart and sizzling sexy new contemporary romance series from bestselling, award-winning author VICTORIA VANE.
HOTEL RODEO is a distinct departure from my more traditional cowboy romances. Ty Morgan is a very flawed hero. He's a divorced playboy who loves woman—in single serving sizes and has an alcohol problem that he's mostly overcome.  He's got a smart mouth and talks a lot of smack about his ex-wife, but deep down takes responsibility for the failed marriage. He has countless "friends" but doesn't let anyone get too close, with the exception of his business partner, Oklahoma billionaire, Tom Brandt.  With no other family or close connections, The Hotel means everything to Ty, but he knows its days are numbered.
Monica Brandt is carrying plenty of baggage as well.  After seven years in the shark infested waters of New York's' financial district, she has an almost impenetrable outer shell, until a tragedy reveals the fiercely loyal and caring woman inside. When her father suffers a stroke, she risks her job and even breaks with her fiancé to get to his side. Arriving in in Las Vegas, she finds the circumstances surrounding her father's stroke highly incriminating which makes her immediately suspicious of Ty.
Tom Brandt is the only thing Ty and Monica have in common. He's her formerly estranged biological father and the man who raised Ty after his own father's tragic death. They both wants what they believe is best for Tom but don't see eye to eye on anything.  The only thing stronger than their constant conflict is their combustible chemistry.
She flicked a glance at her diamond bezel Tag Aqua racer—her last birthday present to herself. The watch, the bag and even her Jimmy Choos, were all well-recognized power statements in New York, not that he'd know the difference. And he was now fifteen minutes late. She inhaled, counted to ten, and then exhaled with a huff of exasperation. Was this just some passive-aggressive strategy to unsettle her? Maybe. But then again, she was probably giving Ty Morgan way too much credit—the dumb cowboy probably didn't know how to tell time. – HELL ON HEELS (Hotel Rodeo #1) by VICTORIA VANE
He stepped into her space. "Maybe you need a bit of sexual harassment, Ms. Brandt," his voice was suddenly low and smooth as silk. "As a matter of fact, I think you need a whole lot of it." She retreated a step. He advanced two. "You see," he continued, backing her up to the desk, "I was raised in the belief that anything worth doing, is worth doing right."
His hands came down on the desk, braced on either side of her. His musky masculine sent washed over her, sucking the air out of her lungs. Evan wore outrageously expensive Clive Christian 1872. Ty Morgan wore "pure cowboy" vintage 1982, earthy, tangy, and tantalizing. – HELL ON HEELS (Hotel Rodeo #1) by VICTORIA VANE
---
ABOUT THE AUTHOR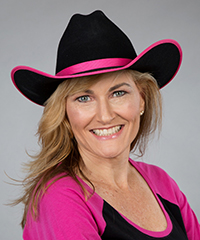 Victoria Vane is a #1 bestselling award-winning author of smart and sexy romance. Her works range from comedic romps to emotionally compelling erotic romance and have received over twenty awards and nominations including: a 2015 Red Carpet Finalist for Best Contemporary romance (Slow Hand), 2014 RONE Winner for Best Historical Post Medieval Romance (Treacherous Temptations), and Library Journal Best Ebook Romance of 2012 (The Devil DeVere series). Victoria also writes romantic historical fiction as Emery Lee. She currently resides in Palm Coast, Florida with her husband, two sons, a little black dog, and an Arabian horse.
Contact info:
Email: [email protected]           Website: www.victoriavane.com
Blog: www.embracingromance.com         Facebook: http://on.fb.me/YVeXrf
Twitter: @authorvictoriav                       Pinterest: http://bit.ly/1vONQZh
Amazon: http://amzn.to/10QMKT5             Goodreads: http://bit.ly/1sccsM4
YOUTUBE: http://bit.ly/1yNtEMP
---
RAFFLECOPTER GIVEAWAY
a Rafflecopter giveaway
---
HELL ON HEELS (HOTEL RODEO #1) by VICTORIA VANE 
PLACE YOUR BET…The Hotel Rodeo in Las Vegas has seen better days, but managing partner Ty Morgan has come up with a way to return it to its former glory. His plan looks promising until the unthinkable happens. Suddenly Ty is working for the boss's daughter. And Miss Monica Brandt, hot as she may be, doesn't share his vision…
ROLL THE DICE...She left a fabulous career and a frustrated fiancé in New York to move to Vegas and save her father's investment. But now Monica is locking horns with a sexy cowboy-turned-businessman. What does Ty think he can do that she can't? All Monica knows is that she doesn't dare trust him—or is it herself she doesn't trust…
AND WIN…The battle lines are drawn. The stakes are high.  And the attraction can't be denied—especially the more closely Ty and Monica have to work together. Some odds are just meant to be played, and with chemistry this electric, it may be time to grab life by the horns…
BUY LINKS:  Amazon, B&N, Google Play, Kobo