Author Interview with Susan Schild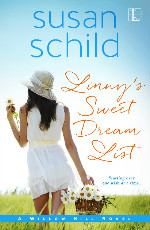 Where did you get the inspiration for your series/book?
I've made course changes in my life – career shifts, married late –  and didn't start writing until I was over forty. The women characters in the book are over the age of thirty and making plucky changes, because happily ever afters happen at any age!
If the apocalypse happened, which of your heroes &/or Heroines would you want to have on hand to help you survive and why?
Linny's friend, Mary Catherine. The blunt attorney was a tomboy as a girl and grew up rough. She could handle a little old apocalypse.
Who is the celebrity who inspired the characters in your latest book?
Loved characters of Lemon, Zoe and Annabeth in the television series, Hart of Dixie. Older movies with sassy Southern heroines: Julia Roberts and Kyra Sedgwick in Something to Talk About, Reese Witherspoon in Sweet Home, Alabama, Sandra Bullock in The Blind Side, and those lovely Steel Magnolias.
What genre(s) do you write in & why?  
I write Women's Fiction that takes place in small Southern towns. Have lived in the South for most of my life, so that's what I know best. The genre is also what I read – authors like Mary Kay Andrews and Dorothea Benton Frank.
Hope readers find the stories heartwarming. With all the bad news in the world, Willow Hill is a pleasant haven for readers.
Are there any particular locations you have traveled to that have made it into your novels?
I have lived in Chapel Hill and then the Raleigh area of North Carolina for a long time. Willow Hill seems like home, so that's where Linny lives.
If you are not writing, what would your profession be?
Was a psychotherapist and, then, a management consultant for much of work life and enjoyed both.
What is your go-to snack or meals when you are on deadline?
Unsweetened ice tea, salsa and chips. Meals – bad, cardboard tasting pizza, and Lean Cuisine Santa-Fe Style Bean and Rice. Add bottled green sauce.
How many more books do you have planned in the series?
In 2016, two more in the Willow Hill series, and readers will get even more adventures, new beaus, a road trip for Mama and her pals, and maybe even an I do…or two.
What would be the theme song for this novel be and why?
Patsy Cline's Sweet Dreams (of you) inspired the title for Linny's Sweet Dream List, but it's a lament. Linny is coming back strong and having a grand old time. No laments.
Patsy Cline also sang, Always, about finding lasting love. That's my vote.
Do you have any upcoming releases that readers should know about?
The second book in the Willow Hill series, Sweet Carolina Morning, and is available for pre-sale now. And a second series is percolating in the back of my mind. Still in Willow Hill, but new female heroines. Stay tuned…
---
ABOUT THE AUTHOR
Susan is a wife and stepmother. She enjoys weekend getaways with friends, reading fiction, and rummaging through thrift store and antiques stores for treasures like four dollar cashmere sweaters and amateur watercolor paintings. A dog lover, Susan has a special fondness for Lab mix rescue dogs. She and her family live in North Carolina where she is finishing up the third novel in the Willow Hill Series, Sweet Southern Hearts.
Susan graduated from James Madison University in Virginia, and holds a master's degree from The University of North Carolina at Chapel Hill. She has used her professional background as a psychotherapist and management trainer to add authenticity to her characters.
Email: [email protected]
Website: http://www.susanschild.com/
Author Facebook: https://www.facebook.com/author.schild
Twitter:   @susan_schild
https://twitter.com/susan_schild
Goodreads: https://www.goodreads.com/SusanSchild
Susan's Quarterly newsletter: http://www.susanschild.com/newsletter.html
---
Linny's Sweet Dream List
Linny's Sweet Dream List is a Southern story about love and family, small town life and bright characters you are going to want as friends.
The book is a sunny, wholesome read. If you are ever overwhelmed by the bad news in the world, join me in Willow Hill, North Carolina where colorful characters are searching for – and finding – their happily ever afters.
Fans of Mary Kay Andrews and Dorothea Benton Frank may well enjoy Linny's Sweet Dream List.
Linny's Sweet Dream List is the first of three Willow Hill novel. Two sequels to the novel, Sweet Carolina Morning and Sweet Southern Hearts – will be released later in 2016.
AMAZON   |   BARNES & NOBLE   |   KOBO