Women in Male Roles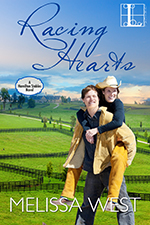 BY MELISSA WEST
Hi there! My name is Melissa West, and I am the author of RACING HEARTS, book 1 in the Hamilton Stables series, featuring horseracing and a second chance at love.
But one of the things I love most about this book, beyond Trip Hamilton because YUM, is the idea of women entering male roles and succeeding. I loved the idea so fully that when asked for my dedication for the book, I immediately thought: strong women. So the dedication is:
To the women of the world who dare to step into male roles and succeed—Thank you.
In an ever changing world, you would think that stereotyping would be a thing of the past, but in certain areas, gender roles are as prevalent as ever. One such area is horse racing. Women do race, and successfully I might add, but there has never been a woman to win the Kentucky Derby or even a woman to be heavily considered as a contender for the title.
Enter Emery Carlisle, the heroine of RACING HEARTS.
Emery is a jockey who was injured while racing the Kentucky Oaks, and now that she's healed, she has her sights on the race of all races—the Kentucky Derby. Of course, she is met with skepticism and doubts by everyone, and a lesser woman might falter, but not Emery. She stands tall.
And as a mom to two girls, I hope to teach them that there are no rules when it comes to success. If they can dream it, that dream can become a reality. Being female isn't a liability; it's a gift. Someone has to be the first…why can't it be you?
---
ABOUT THE AUTHOR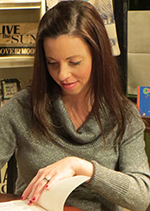 Melissa West writes heartfelt Southern romance and YA sci-fi romance,
all with lots of kissing. Because who doesn't like kissing? She lives outside of Atlanta, GA with her husband and two daughters and spends most of her time writing, reading, or fueling her coffee addiction.
Connect with Melissa at:
Twitter: @MB_West
Sneak peeks at upcoming titles, prizes, and more, join Mel's Madhouse: https://www.facebook.com/groups/MelsMadhouse
---
RACING HEARTS
In the lush heart of Kentucky, the Hamiltons are horse racing royalty, born to produce champions. To win takes heart and soul—and to love takes the wild spirit of the land itself…
The oldest of three headstrong brothers, Trip Hamilton is considered the best horse trainer in the world. But he learned long ago to keep his focus on the horses and away from the riders. He's seen the way heartbreak can waylay a career, and he's determined not to risk it—until a stubborn, sexy rider thunders into his life, breaks his resolve, along with several of his rules, and takes his heart right out of the gate…
Emery Carlisle has a point to prove. She'll be the first woman to win the prestigious Kentucky Derby, if only Trip will hire her, and let her ride the spirited colt she fell for at first sight. He won't—unless she agrees to train with the horse at Hamilton Stables, under his guidance. It's supposed to be strictly business, but as the race approaches, and their undeniable chemistry builds, Trip and Emery may be headed for the greatest win of all—as long as the losses of the past don't gain on them…
Rafflecopter Giveaway – Ebook copy of Racing Hearts