What Inspires You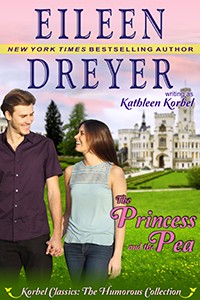 BY EILEEN DREYER
What inspires your book ideas? 
Oh, everything. I admit that at first you have to work hard to pick nuggets of potential from all the bits and pieces of life that wash by. I culled the back pages of newspapers and eavesdropped at airports and stopped conversations to take notes. But as I went along, it became easier and easier. I always think of the imagination as a muscle. And you have to exercise the muscle just like any other to make it work well. So what I did was open up everything I learned, saw, read and heard to the possibility that it could become a story.
As for THE PRINCESS AND THE PEA, it came from several sources. First is THE DEDICATED VILLAIN, one of my very favorite books from one of my favorite romance authors,  Patricia Veryan. After the first six books of her Golden Chronicles Series in which Roland Matheison plays the villain, VILLAIN is his redemption. I can't remember anybody ever redeeming a villain before, and it was delicious. I wanted to do that.
Then I came up with the idea for A PRINCE OF A GUY, which precedes PRINCESS, in which the spoiled crown princess of a tiny European municipality is kidnapped right before her coronation and has to be temporarily replaced by a secretary from Brooklyn(that idea coming from the movie THE PRISONER OF ZENDA). Cassandra, the heroine of PRINCESS, was that spoiled brat princess. In her own book, she has to find her own redemption with the help of mysterious international spy Paul Phillips. And I have to admit that I really did enjoy redeeming someone who seemed irredeemable.
What do you do when you get stuck?
Several things. If the season is right I'll go out and play in the dirt in my garden. If it isn't, I walk. I'm an old trauma nurse, so I learned a long time ago I learn on my feet(One of the side effects of this was a severe misunderstanding with my son-in-law. He met and married my daughter in between deadlines, so he didn't know that if I was stuck, I tended to pace the house during the hours I couldn't get outside. And bless him, he took one look at the disgruntled look on my face and thought that what I needed was a hug, when instead my family could have told them that it meant for him to extend the safety perimeter. In the end, we decided that when writing I should wear an old bathrobe we dubbed the deadline robe) .
And if that still doesn't work, I'll gather my equipment and change locations just in case I'm being distracted by my own house(very easy to happen). So if it isn't working in my office, often I'll move to a coffeehouse. The only problem with that is that I tend to nest. The shop has to 'feel' right. How? I have no idea. I just know it when I feel it. And I had this great coffeehouse. Perfect in so many ways that I went to the barristas' weddings. And then, they closed. I can't begin to tell you how displaced I felt. I wandered around like Moses in the desert for two entire years trying to find another even almost-perfect place. I'm happy to say that in the last few months I've been successful, and feel more settled. Now I just have to settle back into my office, because I do most of my best work after all the coffee houses close. (yes, I'm a night owl.)
What distracts you the most when you're trying to write? 
Everything. Sunshine, email, squirrels. Phone calls and bills. I have bad ADD, which is a benefit for a trauma nurse, but a real handicap for a writer. It might even have been okay if I didn't have so many interests and love spending time with my family so much. But when I get a chance to sleep up in the treehouse with the grandkids or travel to Belgium to attend the 200th anniversary of the Battle of Waterloo, I do it. After all, when else am I going ot have the chance to stand with the Duke of Wellington as the Royal Engineers play God Save the Queen(or, as my friend Sally Hawkes and I preferred, My Country Tis of Thee). How do I know I'll have another chance to tell ghost stories to my babies? The  woman in my family die young. I plan on breaking the tradition, but I'm always sensible to the fact that time isn't guaranteed.  But at night when everybody is in bed and the moon rides high, I disappear into my stories and characters, and I make a world of my own(if I'm lucky).
Do you write by the seat of your pants (pantser!) or do you carefully plot your stories  (plotter!)? Has that changed at any point in your career or maybe it changes depending on the book? 
I'm actually a bit of both, but if push came to shove I guess I'd come down on the side of the pants. I'm very right-brain, so I'm much better at the whole picture than details. So when I start putting a book together I can see the whole picture, like a jigsaw puzzle in my head. But I can't separate the pieces out until it's time to put them together. So my outlines tend to have lines like "Somehow they find out who the bad guy is" and "Bad things happen", which is always followed by two Post-its at the end that say "Warning: Incidents liable to change without notice" and "Trust me." I have to tell myself the story in a linear fashion, and it's usually as I do that the secrets are revealed my characters would prefer kept hidden.
My style hasn't really changed with experience, but it does change sometimes depending on the book. For instance when I'm writing medical-forensic suspense, plot is much more important. Especially the way I write them.(My editor has told me she's going to cross-stitch a sampler for me. My next plot will be simple. It's much easier for me to write romance. Not because the books are less complex. Because they're character-based. If I create real-enough characters and give them real-enough conflict, I can carry the book on as long as I need.
Is there another romance author whom you admire so much that you could easily become a stalker? 
Well, I've often thought of stalking Nora Roberts, but that's just to make her give back my muse. I think she's been collecting everybody else's muse up in her house and chaining them to her desk. I've never known anybody else with her work ethic. Also, whenever I get distracted and forget the details of my story(that right-brain thing again), I turn back to Nora for a solid reminder. Nobody details setting, character and appearance better. I'm also jealous because she has her Irish land and I don't. I'm working on it, though(and we don't belong on the same land, so I can stay friends with her.). Because I figure if worse comes to worse, and I'm really stuck, I can always go to Ireland to work(at least that works in my head).
---
ABOUT THE AUTHOR
New York Times bestselling, RWA Hall of Fame author Eileen Dreyer has published 31 romance novels in most genres, 8 medical­forensic suspenses, and 10 short stories.
2015 sees Eileen enjoying critical acclaim for her foray into historical romance, the Drake's Rakes series, which Eileen labels as Regency Romantic Adventure that follows a group of Regency aristocrats who are willing to sacrifice everything to keep their country safe. She is also working on her first non­fiction book, TRAVELS WITH DAVE, about a journey she's been taking with a friend's ashes.
A retired trauma nurse, Eileen lives in her native St. Louis with her husband, children, and large and noisy Irish family, of which she is the reluctant matriarch. She has animals but refuses to subject them to the limelight.
Website: eileendreyer.com
Facebook: https://www.facebook.com/EileenDreyer
Twitter: @eileendreyer
---
Rafflecopter Giveaway – Ebook copy of The Princess & The Pea
---
THE PRINCESS AND THE PEA
(Korbel Classic Romance Humorous Series, Book 4)
Moritanian Crown Princess Cassandra leads a fairy-tale existence. Some consider her the most spoiled woman in Europe. Then she is kidnapped.
Retired spy Paul Phillips is a self-made man more at home with flying bullets and fast cars than champagne and caviar. Then he finds Crown Princess Cassandra.
Now speeding through Europe, the pair are ducking enemies and each other. But as sparks fly, they wonder if they might be driving toward a fairy tale ending.