My Love Of Pirates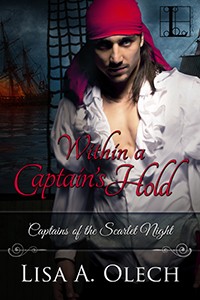 BY LISA OLECH
I was at a book signing recently, and I was telling anyone interested in listening about my debut release in the Captain's of the Scarlet Night Series, Within A Captain's Hold. As soon as I would say, "If you love pirates…," the overwhelming response was, "Who doesn't love pirates!" Who, indeed?
Mine has been a long time love affair with pirate romance. When I was pregnant with my second child, I craved pirate novels like some women crave pickles and ice cream. I read every romance novel I could get my hands on. If it had the hero in a puffy shirt and a ship on the cover, it was all mine. I even remember packing one in my hospital bag for when I went into labor. You know, just in case I had a little down time during delivering a baby to read a few chapters.
Perhaps that's why my son now works at a pirate museum… Coincidence? I think not!
I think my fascination is because pirates are the ultimate bad boys. Certainly, there were ruthless, bloodthirsty pirates—think gangsters/vampires with a boat. (Pardon me…SHIP!) But there were also historical records of those pirates with hearts of gold. Robin Hoods with a ship. Yes, they were thieves…but hunky thieves in wide sleeved shirts open to the waist and tight breeches.
Brave, daring, seafaring men with magnificent tall ships fighting, drinking and carousing like frat boys on a cruise. It certainly makes the mind of a romance writer—or at least mine—run wild with thoughts of dropping a woman into the midst of this all boy's club. Such possibilities! And what a wonderful opportunity to write female characters strong enough to take on this kind of man.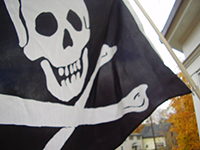 My heroines are just as courageous and strong as the men they fall helplessly in love with. They'd have to be to have found themselves on a pirate ship. And lucky for me, I had some great female pirates of history with which to fashion my own characters. Some disguised as men, some brazen enough to board ship and fight for a place on the crew, and some to marry into a position of power and create an empire so vast, whole countries could not stop them. Talk about amazing characters!
I love pirates. Can you tell? If a hero in a puffy shirt with a ship on the cover makes you break into a chorus of "Yo, Ho, Ho, Ho, A pirates's life for me…," have I got the book for you!
---
ABOUT THE AUTHOR
Lisa is an artist/writer living in her dream house nestled among the lakes in New England. She loves getting lost in a steamy book, finding the perfect pair of sexy shoes, and hearing the laughter of her men. Being an estrogen island in a sea of testosterone makes her queen. She believes in ghosts, silver linings, the power of a man in a tuxedo, and happy endings.
Author's photo courtesy of Jenny Sinclair Photography.
Kensington:  http://www.kensingtonbooks.com/author.aspx/31711
Facebook:  www.facebook.com/Lisa.A.Olech.Writer
Twitter:  www.twitter.com/LisaOlech
Goodreads: www.goodreads.com/author/show/7478599.Lisa_A_Olech
---
Rafflecopter Giveaway- Ebook copy of Within A Captain's Hold
a Rafflecopter giveaway
---
WITHIN A CAPTAIN'S HOLD
Captain Jaxon Steele is a tall, sun-bronzed, fierce-fighting Pirate King. He and the notorious crew of the Scarlet Night are both feared and respected for their ruthless reputation. The Captain's only love is the open sea and the ship he calls home. When it comes to women, he has three rules: never sleep with another's wife, don't take virgins into bed, and most importantly, never bring a woman aboard—that brings the worst luck of all.
Annalise Gatherone has to leave London—tonight! Usually her only concern is the color of her latest gown, but now she's choosing between life and death. Desperate to escape the clutches of an evil Duke, she stows away aboard the Scarlet Night, hoping she's bound for Port St. Maria. Winning Captain Jaxon's affections, she just might sneak by unharmed. But when her plans are altered in ways she never imagined, she must batten down the hatches for a journey into unknown waters…