Behind the Story: An Honorable Wish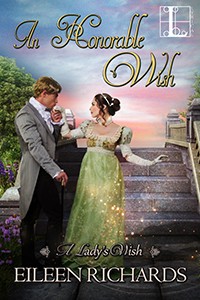 BY EILEEN RICHARDS
For the second book in the series, A Lady's Wish, I wanted to do something a bit different. Readers got to know the Townsend sisters in book one, and I fully expected to have Juliet take the lead role in book two, but Tony proved the be the one with the most to lose.
The inspiration for this book came from some very unexpected places: Downton Abbey and an old boyfriend. In Downton Abbey there is the relationship with the tenants. In one of the earlier seasons, Edith goes to help a family on the farm because she has learned to drive.  That episode and the relationships with the tenants of Downton Abbey influenced this story.
Remember all of those threats about ending up in a book? This one is close.  Tony's personality is based loosely on an old boyfriend of mine from college.  He's affable, the life of the party, and easily swayed. You can't help but want to be with him especially at a party.
But all parties end and the bill must be paid. It is here that Tony's story begins. He's had to put up with being the younger brother. He has to live with the low expectations of his older brother, Nathaniel.  He is constantly being compared and found wanting. His brother will not let him grow up. In this story he grows up.
Tony has become what his brother feared: the epitome of his father. The Late Mr. Matthews was a gambler who lost it all: the house, the money, everything. Tony remembers this but wasn't as affected by it because he was young. Now the tables have turned and he's done same thing to another man: Won the estate, the money, the man's very livelihood in a game of chance. And he's come home to clean up the mess.
I selected Juliet for Tony because she had such a crush on him in book one. He could only see Sophia. He overlooked the bookworm in the corner.  Juliet is quiet, inquisitive, and can learn anything from a book.  I love that about her. Have a problem to solve, find the answer in a book.  She uses this to help her friend, Penelope, the daughter of a tenant on a nearby estate. It's an inappropriate relationship for a gently bred girl. But Juliet doesn't mind getting her hands dirty. Literally.
Juliet did not do well in London. As usual, the gorgeous Sophia over shadowed her. She didn't like the crowds, preferring the museums and circulating libraries to balls and assemblies.  The only reason she attended because Tony was there and he danced at least one if not two dances with her. She lived for those dances.
This couple was friends before they were lovers. It takes Tony waking up to see that the woman of his dreams is right in front of his face. I love those types of romances.
The most challenging part of this story was the characters. I'm a rather hybrid writer, part plotter and the rest by the seat of my pants.  This story was mostly by the seat of my pants. These two people could not stop kissing.
I'd sit down to write a scene and Tony and Juliet would end up kissing.  I had to scrap a great deal of the story in revisions just to reduce the amount of snogging in the book and actually have a plot.  The goal was to keep them apart, not together, until the end.
I hope you enjoy Tony and Juliet and their journey to happy ever after.  I love these two characters. They remind me why we fall in love and why sometimes it's the best part of love.
What is the best part of falling in love for you? Was there anything special that drew you to the one who holds your heart?
---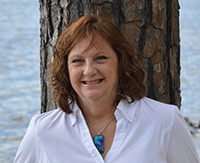 ABOUT THE AUTHOR
Eileen Richards has been writing for most of her life. Poetry, totally inappropriate answers to essay questions in school, and interesting error codes during her 30 year IT career has prepared her for the manic world of publishing.
She writes sassy regency romps set in the small villages of England where the rules are bent a bit and gossip rules the day.
Eileen resides with her husband and their diva of a greyhound in North Carolina.
Website: http://www.eileenrichardsauthor.com
Facebook:  https://www.facebook.com/authoreileenrichards
Pinterest:  https://www.pinterest.com/EileenRAuthor
Twitter: https://twitter.com/EileenRAuthor
Mailing List: http://tinyurl.com/p9hwhqj
---
Rafflecopter Giveaway- Ebook copy of An Honorable Wish
---
AN HONORABLE WISH
LOVE MAY BE THEIR GREATEST GAMBLE…
 
Tony Matthews spends his time in London's most notorious gambling dens, frittering away his fortune. But when his latest victory leaves a man ruined, Tony knows he's reached his lowest point. Determined to make amends, he returns home to his family's country estate with plans to settle down and marry at last. And he hopes the lovely Juliet Townsend will help him—if only he can keep his disgrace a secret.
Juliet's secret wish has always been for Tony to love her. The only bright spot in her dreadful London season was dancing with him—before he disappeared to the card rooms. Now, he's returned, but has he truly changed? Or will gambling always be his mistress, even if she becomes his wife? And does Juliet dare risk her heart by finding out?
Find Eileen Richards' latest book, AN HONORABLE WISH at these fine retailers: