Why I Don't Tell People I Write Romance Novels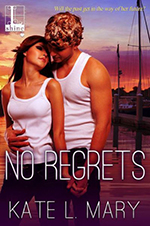 BY KATE MARY
When I tell people I'm an author, the first question they usually ask is: What do you write? The answer, oddly enough, isn't as easy as one would expect. The short answer: A little bit of everything. The truth is that I'll write anything that grabs my attention, but love always plays a key role in my stories. Yes, I've written romance novels—like my New Adult contemporary romance novels THE LIST and NO REGRETS, but I've written books in several other genres! My first book was a New Adult romantic mystery, and I just recently released a YA post-apocalyptic novel, and I have a zombie series—yup, you heard me right. Even though these genres are all very different, all my stories have one theme in common: love.
I don't always have to focus on a romantic kind of love, though. Take Cami, the main character in NO REGRETS, for example. Her best friend's death has left her emotionally crippled, making her feel like she isn't worthy of being happy or loved. Cami's love for her best friend leads her to make some very poor life choices as well as put her own future happiness at risk.
While NO REGRETS is a contemporary romance novel—bring on the hot British guy—there's a lot more to the story than just boy meets girl. It's about learning to let go and forgive, about growing up and making mistakes along the way. It's about leaning on family and friends when you're struggling, and allowing them to hold your hand through your darkest hours. So essentially, it's about learning to let others love you.
That's why I hesitate to tell people I write romance novels. Not because I'm ashamed of what I've written—I couldn't be more proud—but because I don't want them to picture two people ripping each other's clothes off as they tumble to the living room floor. Sure that could happen once or twice, but between the steamy scenes and sexual tension, there's a lot more to the story.
Someone who picks up one of my books can expect to laugh, cry, or be angry. There's a good chance you'll have the desire to hit one or more of the characters, or even give them a lecture on making smart decisions. But ultimately, no matter which one of my books you pick up, I hope you'll get a glimpse of just how much people are willing to risk for love. Whether it's their life or their happiness, or even their safety, when a person loves someone else, there's no limit to what they're willing to give up.
---
ABOUT THE AUTHOR
Kate L. Mary is a stay-at-home mother of four and an Air Force wife. She grew up in a small town just north of Dayton, Ohio where she and her husband met at the age of twelve. Since their marriage in 2002, they have lived in Georgia, Mississippi, South Carolina, and California. She currently resides in Oklahoma with her husband and children.
---
NO REGRETS
(The College of Charleston Book 2)
College is supposed to be fun…
Go to parties
Pick up guys
Maybe get in a little trouble
On the surface Cami is your average, wild teenager out to have a good time, but inside she's struggling. Almost a year ago her best friend was in a car accident, an accident Cami feels responsible for. Since then, she's made it her personal mission to experience everything life has to offer, both for herself and for Julie, who will never have fun again.
Then she meets Liam, her cousin's sexy roommate. Hooking up with a hot British dude seems like the perfect way to start off the school year, but the more time she spends with him, the more she finds herself actually liking the guy. Which totally screws up her plans to live life with no regrets…