On the Road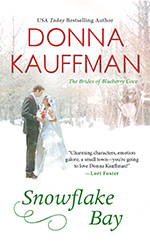 BY DONNA KAUFFMAN
Hello!  Thanks for jumping on my blog hop bandwagon today.  I'm "on the road" talking about my new Brides of Blueberry Cove release, SNOWFLAKE BAY and happy to be making a stop at Romance Divas!  A big thank you for inviting me to be the blogger-in-residence today!
In SNOWFLAKE BAY, the heroine, Fiona McCrae, is starting over in her hometown of Blueberry Cove, Maine, and re-launching what had been a very successful, but seriously high brow design studio in Manhattan, in her own decidedly not-highbrow coastal village.  Fiona had gotten away from her true design aesthetic, which is more shabby chic,  than the sleek and polished look her NYC clients were after.  Like me, Fiona loves to prowl estate sales, flea markets, even curbside throwaways, to see what she might be able to repurpose or refurbish into something eclectic and funky.
I grew up working in our family owned craft shop, so it was great fun to share some of what I do when I'm not writing, with the middle McCrae sister, and I thought you might get a kick out of it, too!  In the story, Fiona repurposes old rubber garden boots, or Wellies, as they call them, into cute, funky planters.  You don't have to be a designer to give it a try. It's something anyone can do!  Any old rubber garden boots will do. You can doll them up by using weather proof paint to give them a cheery new color, or leave them be and let the plant be the showpiece.  Drill a few holes in the bottom for drainage, fill with a few inches of gravel at the bottom to help keep some moisture in the soil, maybe a little charcoal if you have some in your garden stash, add dirt, plop in your plant, and voila!
To make it even more interesting, Fiona hangs the boots along the plank fencing that lines her property.  Simply nail a few hooks into the planks at the desired height.  (Don't nail the boot to the plank as you'll need to be able to take it down for pruning and repotting.) There are lots of interesting metal hooks out there today, ranging from cute to vintage, or add a funky touch by making your own out of old, bent silverware.  Most Wellies have a little canvas loop on the back lip to help pull the boot on—and that serves you well here as you can use that to hang your garden boot planter from your cute and funky hook!  And there you go.  Instant adorable garden wall.
Who knew your blog stop today would include a craft project, right?  I'm a full service kind of author!  My publisher recently launched a Cooking & Crafting with Kensington adjunct to their website and I have a number of projects over there, too. https://hobbyreads.wordpress.com/2015/06/10/miniature-garden-centerpiece-with-donna-kauffman/ But before you hop away, take a moment to leave a comment here and be in the running to win a signed copy of SNOWFLAKE BAY.  I know!  It just keeps getting better and better! (There's even a wedding cake recipe in the back!)
Thanks so much for joining me today. And thanks again, Romance Divas, for inviting me over to play.
---
ABOUT THE AUTHOR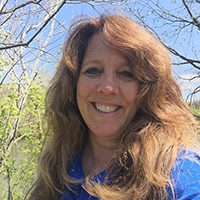 USA Today bestselling author of the Bachelors of Blueberry Cove series, DONNA KAUFFMAN has been gratified to see her books get rave reviews in venues ranging from Kirkus Reviews and Library Journal to Entertainment Weekly and Cosmopolitan. She lives in the beautiful Blue Ridge Mountains in western Virginia, where she is presently applying her crafty DIY skills to decorating her new mountainside abode. Well, when she isn't busy trying to keep the bears from hanging out in her flower and vegetable garden all day and night!  With her new Brides of Blueberry Cove series, Donna's been having a blast applying those same restoration and design skills to doing some fictional wedding planning. Of course, if that means haunting all those lovely antique shops and flea markets that are so plentiful in her new neck of the woods, well, it's a sacrifice she's willing to make. When she's not finding ways to take her love of all things rustic and vintage and give them a fabulous seaside, coastal Maine wedding party twist, she loves to hear from readers!  You can contact her through her website at www.donnakauffman.com.
---
SNOWFLAKE BAY
There's no place like seaside Blueberry Cove, Maine, at Christmas—and there's nothing like a wedding, the warmth of the holidays, and an old crush, to create the perfect new start… 
Interior designer Fiona McCrae has left fast-paced Manhattan to move back home to peaceful Blueberry Cove. But she's barely arrived before she's hooked into planning her big sister Hannah's Christmas wedding—in less than seven weeks. The last thing she needs is for her first love, Ben Campbell, to return to neighboring Snowflake Bay…
As kids, Fiona was the bratty little sister Ben mercilessly teased—while pining after Hannah. But Fi never once thought of Ben like a brother. And that hasn't changed. Except Fi is all grown up. Will Ben notice her now?  More importantly, with her life in a jumble, should he? Or might the romance of the occasion, the spirit of the season, and the gifts of time ignite a long-held flame for many Christmases to come…
Something old might just become something new…
Includes a DIY wedding project! 
"Kauffman's stories show that the bravery to reach for a connection is all we need to discover joy."  –Publishers Weekly on Sandpiper Island