Fairy Tales and Happy Endings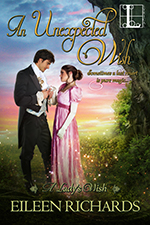 BY EILEEN RICHARDS
Give me a damsel in distress, a handsome hero, and some romance and I'm in. I have always loved fairy tales and stories with happy endings.  I still have my mom's Blue Fairy Book by Andrew Lang that I discovered when I was ten years old at my grandmother's house. I can read them over and over again.
My favorites are: Beauty and the Beast, Cinderella, Sleeping Beauty, and Rapunzel. These are iconic stories with moral lessons, but there's also the romance, the villains and just a touch of magic.
It was that touch of magic and a mystical place that inspired my debut series, A Lady's Wish. What would happen if a plain spinster received a wish to change her life? What if the wish didn't turn out exactly like she thought it would? Isn't this what makes fairy tales such a delight?
In this particular story, I kind of borrowed from Cinderella. We have a sister, Anne, who is at the beck and call of her younger sisters. She is trying to hold her family together as best she can. Her evil stepbrother comes to call bringing with him his own money problems.
Our unlikely fairy godmother is based on a real fable in England called the Fairy Steps. If you climb the steps, a fairy will grant you a wish.  Anne climbs the steps and is granted her wish. It changes her life.
The themes of fairy tales also served as an inspiration. Our heroine has been overlooked and considered quite on the shelf. She's dependable, practical, and blends well into the wall paper. Yet she finds her place. She chooses to make herself indispensable to those around her to prove her worth.
Our hero, Nathaniel Matthews, is a hero in his own family. He has worked hard to rebuild the family fortunes and provide for his brother after the death of his father. He's also rebuilt the family reputation as well.  He is a self made man, confident and definitely not one to believe in magic.
This story is definitely a romantic comedy. There is the taciturn Lady Danford, who was modeled after Maggie Smith's character from Downton Abbey: Violet Crawley. It was so much fun to write those zingers.  Anne's sister, Sophia, is the diva. She is sharp tongued and self-centered. Don't worry she gets her come-uppance later.  Add a vicar intent on getting his hands on a missing fortune and his self-righteous mother and you have the makings of a good regency fairy tale.
Do you like fairy tales? What are your favorites? Why?
---
ABOUT THE AUTHOR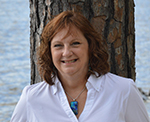 Eileen Richards has been writing for most of her life. Poetry, totally inappropriate answers to essay questions in school, and interesting error codes during her 30 year IT career has prepared her for the manic world of publishing.
She writes sassy regency romps set in the small villages of England where the rules are bent a bit and gossip rules the day.
Eileen resides with her husband and their diva of a greyhound in North Carolina.
FACEBOOK – You can sign up for my newsletter
---
AN UNEXPECTED WISH
LOVE IS IN THE AIR
Anne Townsend doesn't ask for much. Plain and poor, she'd settle for the funds to put food on the table. Making a wish on the fabled Fairy Steps is hardly a solid solution, but to see her two sisters taken care of, Anne's willing to try anything. Yet when she finds herself suddenly surrounded with suitors, romance is now a possibility for the spinster everyone always ignored except with the one man who will never want her…
Nathaniel Matthews has no time for courting. As the eldest, he has his family's lost fortune to rebuild, and his reckless brother to manage before he gambles his future away. Odd that Nathaniel can think of little but kissing bright-eyed Anne, who seems to be fighting off admirers from all sides. Is it the country air, or is Nathaniel ready to discover that love has a magic all its own?
AMAZON US  |  B&N  |  IBOOKS   |  KOBO
---
Rafflecopter An Unexpected Wish Ebook Giveaway