A Prince of a Guy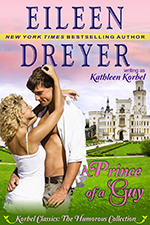 BY EILEEN DREYER
I was thinking of the inspiration for Prince, as I call it. Every book has multiple inspirations, little bits and bobs you pick up from here and there that somehow become the bricks you mortar together into a story.
But for Prince, one of the major inspirations was a classic movie I've loved ever since I first saw it. The Prisoner of Zenda. Not the color version with Stewart Granger, although I'm sure that one is lovely. No, the one I mean is the black and white beauty with Ronald Colman, he of one of the greatest voices in film.
Along with a great cast that included David Niven and Basil Rathbone, Colman swashes and buckles his way across Europe as an English gentleman who bears an uncanny resemblance to the king of a fictitious European country. Trouble comes when the king's brother kidnaps him on the eve of his coronation and Colman is forced to impersonate the missing king before the nation finds out. There is romance, adventure, Ronald Colman, and Douglas Fairbanks, Jr, swordfights and, did I say romance?
Eve since I first saw the movie I've been fascinated by the romance of a commoner impersonating a royal. I've always wanted to do a story in which the most unlikely person has to don a crown, even if only temporarily.
Enter Brooklyn-born Casey Phillips. On a trip to tiny Moritania to see where her ancestors came from, she is mistaken for the Crown Princess Cassandra, not only by a flustered border guard, but by Princess Cassandra's uncle Prince Eric van Liebehaven, who has the unhappy task of keeping a rein on the unpredictable princess.
And then, only days before her coronation, Cassandra is kidnapped and Casey finds herself impersonating a princess. And it isn't quite as easy as Ronald Colman made it look. Ronald was an aristocratic military man back in England. Casey is a secretary from Brooklyn. And she dresses and talks like it.
I admit I had a great time getting Casey into and out of scrapes. I had even more fun helping Prince Eric fall in love with her, much against his wishes. And yes, he does swash a little buckle while he does it. But then, so does Casey.
I'd love to know if you enjoyed them.
---
ABOUT THE AUTHOR
New York Times Bestselling, award-winning author Eileen Dreyer has published 38 novels and 10 short stories under her name and that of her evil twin, Kathleen Korbel in contemporary romance, paranormal romance, historical romance, romantic suspense, mystery and medical forensic suspense. A proud member of RWA's Hall of FAME, she also has numerous awards from RT BookLovers and an Anthony nomination for mystery. Eileen spent 16 years as a trauma nurse and is educated in trauma, forensics and death investigation. She is now focusing on what she calls historic romantic adventure in her DRAKE'S RAKES series, the latest of which, TWICE TEMPTED, is out now. A native of St. Louis, she still lives there with her family. She has animals but refuses to subject them to the limelight.
Website: eileendreyer.com
Facebook: https://www.facebook.com/EileenDreyer
Twitter: @eileendreyer
---
A PRINCE OF A GUY
When New Yorker Casey Phillips visits the tiny country of Moritania, she simply wants to see where her ancestors came from. Instead, she's mistaken for a princess.
The real princess has been kidnapped, and Crown Prince Eric von Lieberhaven insists Casey—a dead ringer for the missing royal—step into the princess's shoes until she can be freed.
As Casey upends royal tradition, Eric finds himself hoping the cheeky American never returns home. But can a secretary from Brooklyn really find happiness with a prince?
Available at: AMAZON, BARNES & NOBLE, KOBO