Live A Thousand Lives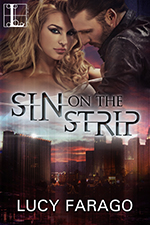 BY LUCY FARAGO
There's a reason why I read. I do it to escape, to transform into someone else, free to travel to places I've haven't been, and more than likely will never get the opportunity to visit. I become the blond I've always wanted to look like. You know, the one with long legs, bright blue eyes and hair like spun gold. Something my curly brown locks will never be. Alas, we always want what we can't have.
But in books anything is possible. I am that boy with the magic wand, that girl with the flying pony. I am one half of the star-crossed lovers, the fairy princess who gets her prince. I might see through the eyes of an old woman or the naïve eyes of youth. And on occasion I'm even the villain you love to hate.
Sometimes, I'm the person on the sideline routing for the champion, or biting my nails as I wonder what will happen next. Or I can simply be the reader with a smile on my face, or tears in my eyes. And I love it all.
When I write I want the same for my readers. I hope they see Maggie as I see her. The brave woman who doesn't understand the hero she truly is. The woman who desires her father's approval but won't beg for it. The one who wears her heart on her sleeve and risks her life to help others. It doesn't matter that you or she have nothing common. You can see yourself in her shoes, if only for a little while.
---
ABOUT THE AUTHOR
Lucy Farago knows there is nothing like a happy sigh at the end of a good book. With the encouragement of her loving husband, she wrote her first manuscript. An unpublished historical, it sits in a file on her computer, there to remind her how much fun she had learning the craft and becoming part of an industry whose books make you believe anything is possible. A big fan of Agatha Christie, she set out to write her first romantic suspense novel. Thrilled to be a published author, Lucy also teaches yoga, enjoys cooking, and saying what other people are thinking. In her fantasy world, her beautiful Siberian husky, Loki, doesn't shed and her three kids clean up after themselves. Alas, that fantasy will never see fruition.  http://www.lucyfarago.com
Photo Credit: Weber Photography 
---
SIN ON THE STRIP
What happens in Las Vegas always burns bright, especially after hours. In this sizzling new series, the city's 24/7 glitz hides one woman's darkest nightmares—and one investigator's seductive secrets…
Control is everything to gorgeous Maggie Anderson. Her exclusive club gives abused and troubled women a refuge from Vegas's merciless streets—and helps her reclaim her shattered sense of freedom. But now someone is brutally murdering those she fights so hard to save. And baring her deepest fears to the one man who insists on protecting her could be the one move she won't survive…
Elite private investigator Christian Beck knows this particular serial killer's MO—and his own wrenching failure to find him—all too well. But staying two steps ahead of Maggie's determination to uncover the truth pushes his well-honed skills past the limit—and ignites his most naked instincts. Now every clue is a lie, each irresistible desire a lethal trap. And the closer he and Maggie get, their shattering secrets will either save them—or torch their lives to glittering ash…