Starry Knight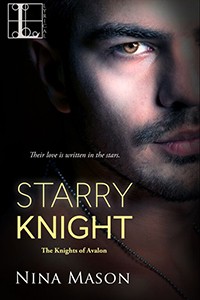 BY NINA MASON
The Knights of Avalon, the four-part erotic PNR/UF series Starry Knight launches, was born of a simple idea: to write a series incorporating different forms of divination. From that kernel grew the far more complex world of the series. The Knights of Avalon, the enchanted otherworld isle featured in Arthurian and Celtic legend, were Scottish noblemen who, after falling in battle, were taken by the fairies to serve as breeding drones to their queen. Each of the four books in the series tells the story of a particular knight and the heroine whose love saves him from his unhappy existence.
Each knight grapples with a different relationship with Morgan Le Fay, the cruel and selfish queen of Avalon. Callum Lyon, the hero of Starry Knight (book one), is free of Morgan's influence, having escaped enslavement after faking his own death. Leith MacQuill, the hero of Dark and Stormy Knight (book two), was expelled from Avalon after the queen discovered his amour with one of her scouts. In book three, which I've yet to write, Axel Lochlann, a rune-casting Scot of Viking descent, guards the portal between Hitherworld (our realm) and Thitherworld (the otherworldly realm). The fourth knight, Finn MacKnight, doesn't know what he is or that he's destined to fulfill an ancient prophecy telling of the queen's overthrow by a 'natural-born' drone. Because of this prophecy, Morgan kills all the male children she bears and punishes the knights who father them.
Avalonian knights are vampire-like, but not vampires per se. Members of the Unseelie Fae, they drink blood and can assume the form of any creature they choose, but generally take the form of a particular animal to hunt. Callum's preferred form is a lion, Leith's is a Kellas Cat, Axel's is a gyrfalcon, and Finn's is a jaguar.
Astrology is the new-age element featured in Starry Knight (hence the name). Callum, the court astrologer to King James IV, fell in battle in 1513, after warning the king the stars did not favor the invasion of England. Ignoring Callum's advice proved costly to the king and his astrologer.
In modern times, Callum lives in the northernmost county of Scotland as a reclusive political astrologer. The heroine, a free-spirited English aristocrat named Vanessa Bentley, comes to Caithness with the goal of getting inside Barrogill Castle. She's just finished her training as a paranormal investigator and the London paparazzi have been giving her a hard time. Legend has it a vampire lives at Callum's castle, so she decides to seduce the gorgeous, golden-haired baron to gain entry to his otherwise inaccessible abode. Needless to say, both get a lot more than hot sex (but also plenty of that!) from the bargain they strike.
Tarot cards, voodoo, ghosts, and the more traditional form of vampire also play roles in the plot. I hope readers enjoy Starry Knight and the rest of the series as much as I have enjoyed writing it!
---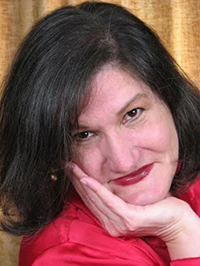 ABOUT THE AUTHOR
Nina Mason is a hopeful romantic with strong affinities for history, mythology, and the metaphysical. She strives to write the same kind of books she loves to read: those that entertain, edify, educate, and enlighten.
She has four books out at present and three more on the way. Her current releases are, in order of publication: The Queen of Swords, a darkly erotic Scottish paranormal romance/urban fantasy; The Tin Man, a political thriller; and Devil in Duke's Clothing and The Duke's Bedeviled Bride, the first two installments in an erotic historical series titled Royal Pains. Book three of Royal Pains will be released in October.
Starry Knight is the first book in a four-part paranormal romance series titled The Knights of Avalon. The series combines Arthurian legend, Celtic mythology, and Scottish history to tell the story of four mortals taken by the faeries after falling in battle. The Knights of Avalon are the breeding drones of the legendary sorceress Morgan Le Fay. Book Two, Dark and Stormy Knight, will be released in January 2016. The series is being published by Lyrical/Kensington.
Here are my social-media links:
Author website: http://ninamasonauthor.com
Facebook page: http://www.facebook.com/ninamasonromance
Twitter handle: @ninamasonauthor
Goodreads page: http://goodreads.com/ninamasonauthor
Blog: http://ninamasonromance.blogspot.com
Pinterest: http://pinterest.com/ninamason165
YouTube Channel (where readers can view my book trailers): http://www.youtube.com/ninamasonauthor
---
STARRY KNIGHT

Can these star-crossed lovers bridge two worlds?

British aristocrat Vanessa Bentley has beauty, fame, and fortune, but she gets no respect for her decision to become a paranormal investigator. Determined to prove the naysayers wrong, Vanessa ventures to the misty moors of Caithness, Scotland. There stands the immense Castle Barrogill, where a vampire is rumored to be stalking the dungeons—a vampire Vanessa is determined to find. She'll just have to get past the resident shape-shifter…
Callum Lyon is the gorgeous reclusive astrologer and faery knight who guards the castle. For free-spirited Vanessa, seducing him proves to be easy. After all, he was once a breeding drone to a Queen. But astrologically, their differences are harder to overcome. Will Vanessa's mission—and Callum's secrets—be more than their burgeoning love can take? Or will flesh—and blood—win over the ghosts that haunt them both? ….