Five Easy Ways to Mess up a New Relationship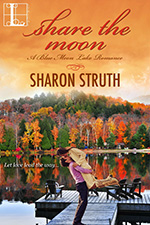 BY SHARON STRUTH
Thanks for hosting me today. SHARE THE MOON character Sophie Shaw has graciously offered to step in to handle this blog post with a few words of wisdom on starting a new relationship. Take it away, Sophie…
---
Five Easy Ways to Mess up a New Relationship
By Sophie Shaw, Senior Reporter, Blue Moon Gazette
Since my divorce, I've concluded the available men in the small town of Northbridge, Connecticut is as predictable as the assortment at the dollar rental video store, filled with decade-old hits I've seen so many times they hold little interest. So the day I stumbled upon Duncan Jamieson at Blue Moon Lake, I could hardly believe my good luck.
But then I learned HE was the man who outbid me on my offer to buy a local vineyard. It seems he didn't want me to know he was "that guy" and even lied about his identity. But little did he know that I had a job to do…to find out why there were bribery rumors about his purchase and why his family can't be trusted.
That's when then the ball started rolling downhill…
So what exactly went wrong?
White lies. Well-intentioned lies. But even the simplest of untruths may come back to haunt you. Duncan learned the hard way that female rage is never a pretty sight.
Speaking of female rage, this reporter learned the hard way that if you abruptly end an interview and get the last word it may initially go down with the satisfaction of a smooth merlot. However, sometimes facts become clearer later and what you thought wasn't the truth actually isn't a lie….
Ladies, if you DO apologize for your mistake, please don't toss out another insult. Reel in your anger (How could I resist? Here in Northbridge, CT we love our fly-fishing.)
And men, I don't care how darn easily the charm oozes from your pores…think twice before you use it on a bedazzling blond while the woman of your dreams stands at your side, even if you're programmed to make sure everybody you meet loves you.
Work really is important, but after that special guy confesses his love to you, maybe a hunt behind his back for details about his family's family secrets isn't the smartest move. Because what if he finds out you've been snooping…???
Thank you, Sophie. Hmmm, does Sophie find out why the Jamiesons' can't be trusted? Does love prevail despite lies, insults, and Sophie's need to get the story out there—at all costs? 
Let's hope so. Personally, I don't lie to my husband, but I admit to occasionally blasting him with some female rage. Maybe I should heed my character's advice. 
What about you…any relationship-don'ts to share?
---
ABOUT THE AUTHOR
Sharon Struth is an award-winning author who believes it's never too late for a second chance in love or life. When she's not writing, she and her husband happily sip their way through the scenic towns of the Connecticut Wine Trail. Sharon writes from the small town of Bethel, Connecticut, the friendliest place she's ever lived.
For more information, including where to find buy links to her novels and published essays, please visit her at the following places:
Website
Musings from the Middle Ages
Facebook
Twitter
"Sharon Struth has woven a tale of suspicion, mystery and the complete emotional breakdown of two people searching for love and restoration of their past lives. The plot is refreshing and will definitely keep the reader turning page after page. SHARE
THE MOON is a book that restores faith in human nature and the ability to again find love." –Fresh Fiction
SHARE THE MOON, book one in the Blue Moon Lake Romances, is a finalist for a RONE Award and a Chatelaine Award for Romantic Fiction!
Amazon   |    Barnes & Noble  |    Kobo   |    GoogleBooks   |    iBooks​    |  Amazon UK