What Happens When You Turn A Single Title Into A Series?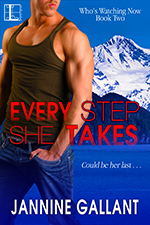 BY JANNINE GALLANT
Some series are planned as such from the beginning…several books with common characters all mapped out ahead of time. I've done that before and had great fun with the process. But my current series, Who's Watching Now, began life as a single book. I wrote Every Move She Makes, the first book in the series, to stand alone. It wasn't until quite some time after it was finished that I decided I couldn't let the characters go. My heroine's sister, Grace, needed a book of her own. Every Step She Takes was born.
Complications I'd never considered confronted me. Grace was straightforward, loyal, gorgeous and driven to succeed. All great qualities in a heroine. Hooray! Unfortunately, she was also tough and cynical and had a string of ex-boyfriends a mile long to her credit. These traits made her an interesting secondary character, but now she was my heroine. Yikes! I couldn't change her past or her personality without losing consistency. I had to work with what I'd already created. So, I gave Grace a trauma in her youth, a reason for acting the way she did. I loved writing this flawed character, and the more I wrote, the more convinced I became that she was my most fleshed-out, fascinating heroine ever.
I learned two helpful facts from my single title to series experience. First, it's a whole lot easier to plan a series ahead of time. But more importantly, I learned that flawed characters have vast potential. What do you think? We all come packed full of imperfections. Do you enjoy reading about heroes and heroines who are just as messed up as we are, or is romance your escape from reality?
Every Step She Takes is currently available for pre-order at all online retailers. The official release day is tomorrow, July 7th!
---
ABOUT THE AUTHOR
Write what you know. Jannine Gallant has taken this advice to heart, creating characters from small towns and plots that unfold in the great outdoors. She grew up in a tiny Northern California town and currently lives in beautiful Lake Tahoe with her husband and two daughters. When she isn't busy writing or being a full time mom, Jannine hikes or snowshoes in the woods around her home. Whether she's writing contemporary, historical or romantic suspense, Jannine brings the beauty of nature to her stories. To find out more about this author and her books, visit her website at janninegallant.com.
Author Links: