Meet Joe Reilly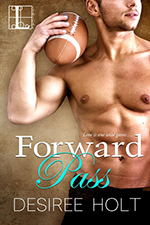 BY DESIREE HOLT
Hello! My name is Debbie Morgan and I'm a host for Good Afternoon, Football, the program for women who think football is better than sliced bread. This afternoon we have a man that Granite Falls High School still sees as their golden boy fifteen years after quarterbacking the team to the state championship. Good afternoon, Joe.
Joe: Hi, Debbie. Thanks for having me here.
Debbie: You've been out of football for five years now. Do you miss the playing field?
Joe: I think I'll always miss it a little. It's hard not to. Wrecking my knee wasn't exactly  something I planned on.
Debbie: But you've got a great new career now, right? For Fox Sports One?
Joe (Nods head): I do. I was lucky, I guess. My agent made a deal for me to create a program that people seem to like.
Debbie: Whose came up with the name, Inside the Helmet?
Joe: It was a collaborative effort. Fox wanted em to be able to sue my knowledge as a quarterback and they wanted something besides the usual interview show.
Debbie: Well, this certainly is. Interviewing active quarterbacks about what's going on in their head during a game has obviously done the job. The ratings are through the roof.
Joe (Grinning): And thank the lord for that, right?
Debbie: So, Joe. (refers to notes on her iPad) I understand you've been seen out and about with Shey Beckham.
Joe (Crossing legs and eyeing interviewer): We've gone out together a cope of times. I'm sure you now that her brother, Hank, and I have been best friends for years.
Debbie (nods): And how does it feel, dating the little sister of your best friend? I'm sure our viewers would like to know.
Joe (struggles to keep face impassive): Shey is a bright, vibrant, interesting young woman whose company I enjoy.
Debbie (slow grin): Does it complicate things that the two of you are sharing a house?
Joe (uncrosses legs, leans back in chair): It happens to be the house where she and Hank live. Hank was kind enough to extend hospitality to me while I'm in the city on business.
Debbie: But Hank's out of town, or at least so I hear. How does that work for the two of you?
Joe: It works just fine. (Leans forward) Let me tell you about the new Wolves quarterback I'm interviewing this week.
Debbie (sly smile): Ah, changing the subject? Okay, let's hear about the upcoming program. (winks) But I'm not forgetting about Shey. We'll get back to her next time I have you on the show.
(Interview continues. Joe successfully avoids more discussion about Shey.)
Debbie (looks at her watch): Gee, I see that our time is just about up. Thanks for being our guest today, Joe. I look forward to hosting you again. Hearing more about your show and of course, about Shey. (turns to face camera.) Remember, Every Sunday at noon. Inside the Helmet. Keep watching.
---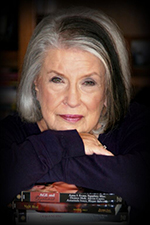 ABOUT THE AUTHOR
Known the world over as The Oldest Living Erotica Author, Desiree Holt proves every day that she is more than the sum of her years and more than the grandmother who plays with Barbie and Ken dolls: She is The Hardest Working Erotica Author, producing one novel or more each month and receiving rave reviews.
She is a winner of the EPIC E-Book Award, a nominee for a Romantic Times Reviewers Choice Award, winner of the first 5 Heart Sweetheart of the Year Award at The Romance Studio as well as twice a CAPA Award for best BDSM book of the year, winner of the Holt Medallion, multiple winner of the Whipped Cream Book of the Week Award and is published by five different houses. She has been featured on CBS Sunday Morning and in The Village Voice, The Daily Beast, USA Today, The Wall Street Journal, The London Daily Mail and numerous other national and international publications.
"Get out the ice water and fan…Desiree Holt delivers smoking hot alpha heroes and red hot romances." Lea Franczak, USA Today Happy Ever After blog
Learn more about her and read her novels here:
www.desireeholt.com