Body Image in Regency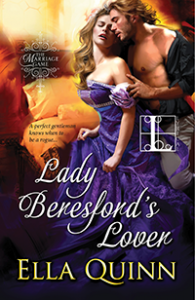 BY ELLA QUINN
My new release deals with body image, and how a perfectly lovely woman can believe she is undesirable. Naturally, that meant that I really needed to get my research right about what was considered beautiful during the Regency era. What I discovered may surprise you.
If you are a Regency reader, you have no doubt seen the fashion plates that depict tall slender women. But was the idea of beauty really tall and slender. Not so much. In fact, not at all. Just a glance at the portraits of the day will show that none of the women considered Diamonds of the First Water were anything but what we would consider plump, or even a little on the plus side.
A little more research revealed that if a woman's collar bones were showing, she was considered vulgar. And here is a quote from 1809, which shows one lady's distress at the possibility that she might have lost weight. S. T. Coleridge Three Graves iv, in Friend 21 Sept. 94   Oft she said, 'I'm not grown thin!' And then her wrist she spann'd.
Why was it that being thin was so unfashionable? For the most part, it meant that the person was too poor to afford sufficient food, or was suffering from ill health.
As for being tall, well the cant term, 'long meg' says it all.
---
ABOUT THE AUTHOR
Bestselling author Ella Quinn's studies and other jobs have always been on the serious side. Reading historical romances, especially Regencies, were her escape. Eventually her love of historical novels led her to start writing them. She has just finished her first series, The Marriage Game, and her new series will start in April 2016.
She is married to her wonderful husband of over thirty years. They have a son and granddaughter, one cat and a dog. After living in the South Pacific, Central America, North Africa, England and Europe, she and her husband decided to make their dreams come true and are now living on a sailboat cruising the Caribbean and North America.
Ella is a member of the Romance Writers of American, The Beau Monde and Hearts Through History. She is represented by Elizabeth Pomada of Larsen-Pomada Literary Agency, and published by Kensington.
Website: www.ellaquinnauthor.com
Facebook: www.facebook.com/EllaQuinnAuthor
Twitter www.twitter.com/ellaquinnauthor
Blog http://ellaquinnauthor.wordpresscom
---
ABOUT THE BOOK
Lady Beresford's Lover
Ella Quinn's bachelors are quite sure of what they want in life—and love—until the right woman opens their eyes…
After a painful heartbreak, Rupert, the handsome young Earl of Stanstead, has decided that when it comes to love, avoidance is best. Until he meets a woman who makes him forget his plan—and remember his longing for a wife and family. Yet he senses that she too has been hurt, though she attempts to hide her feelings—and more—in the most baffling and alluring way. Intrigued, Rupert is willing to play along, if winning her is the prize…
Crushed by her late husband's scorn, Vivian, Countess of Beresford, believes she is monstrously undesirable. Sadly childless, she has moved to London resigned to a solitary life. Still, when she encounters Rupert at a masquerade ball, her disguise as Cleopatra emboldens her. Convinced he doesn't recognize her, she begins an after-hours affair with him, always in costume—while allowing him to innocently court the real her by day. But when Rupert makes a shocking choice, will Vivian be able to handle the truth?…
Available at: Amazon, Barnes & Noble