My Favorite Heroes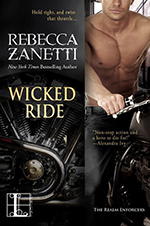 BY REBECCA ZANETTI
Thanks for having me here today to celebrate the release of Wicked Ride!  I thought it'd be fun to talk about my favorite television or movie heroes, and I thought I'd choose lucky seven.  What do you think?
He's the hero in J.D. Robb's Death series.  Roarke is a guy with a bad past trying to find a good future…which is smart since he married a cop.  He tries to stay inside the lines for her, but there's no question he'll cross over if necessary.  Plus, he's tall, dark with blue eyes, and Irish.  Very hot!
Malcolm Reynolds. In Joss Wheden's Firefly, Mal is the leader of a group of misfits trying to travel space and keep their freedom.  They also try to balance the scales between good and evil, right and wrong, even though lots of time they're not sure which side they're really on.
Rick Blain. Yeah, you knew we'd get to Humphrey Bogart at some time, right?  Rick is the classic anti-hero (as are most of the fellas up above).  In Casablanca, his past is sketchy, his present unnerving, and his future up in the air.  Yet he's strong and determined to live life on his own terms – ultimately sacrificing love for the better good.  In the scene where Ilsa says something about the first time they met, the same day the Germans marched into Paris, Rick says it wasn't an easy day to forget.  Ilsa agrees, and Rick says, "I remember very detail.  The Germans wore gray, you wore blue."
Sheriff John Biebe. Russell Crow played the sherrif in Mystery, Alaska, a movie about a small town waaaay up north.  He is a big fish in a small pond, ice skating is king, and the story comes down to a David v. Golieth finish.  The sheriff rocks.
Angel.   It's probably not a big surprise that I like vampires and tall, dark, and deadly men.  Angel is a fun hero because he constantly fights his inner demon to be good, even though he believes there's no way he'll ever find redemption.  Yet he keeps on fighting.
Seeley Booth. Yes, he's the hero in Bones (and Angel), and he's an FBI agent who truly draws the line between good and evil.  He's an ex-sniper with a lot of blood on his hands, but he's okay with most of it since he was serving his country.  He's also a single dad…who keeps falling for women who won't commit.  (And he catches ALL the bad guys).  His character is fascinating…but the guy also has abs of steel.  Just sayin.
Jamie Frasier: Anybody else watching Outlander?  He is such an incredible hero…ready and willing to absolutely run through fire to save the woman he loves.
Who are your favorite heroes?
If you love the Dark Protectors, these wicked hot Realm Enforcers are for you!
---
ABOUT THE AUTHOR
Rebecca Zanetti is the author of over twenty-five dark paranormals, romantic suspense, and contemporary romances, and her books have appeared multiple times on the New York Times, USA Today, Amazon, Barnes and Noble, and iBooks bestseller lists.  She lives in the wilds of the Pacific Northwest with her own Alpha hero, two kids, a couple of dogs, a crazy cat…and a huge extended family.  She believes strongly in luck, karma, and working her butt off…and she thinks one of the best things about being an author, unlike the lawyer she used to be, is that she can let the crazy out.  Her current series are: The Dark Protectors, The Maverick Montana Cowboys, and the Sin Brothers series.  Upcoming series are: The Realm Enforcers and The Scorpius Syndrome.  Find Rebecca at:  www.rebeccazanetti.com