Inspiration – The Holy Grail of Writing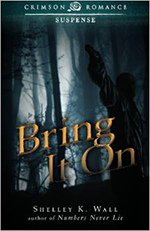 BY SHELLEY WALL
Everyone always asks a writer "Where do you get your inspiration?" Many of us have witty or trite remarks stored up for such occasions. I have a couple but keep them to myself. There really isn't an elusive golden mechanism to spark ideas. I am confident that the truth for the mass majority of authors is – drum roll please and make it crescendo a bit – life, of course. Fiction is fiction but inspiration for ideas that we can use for the basis of a scene or theme often come to us in the random moments of our own life. Yes, it's that simple. What isn't simple? The interpretation. Every situation may spark completely different ideas to different types of artists.
For instance, this morning I was reading Time magazine's special report on the "Secrets of Living Longer" and one particular article caught my attention. Before I go there, I would encourage you to read the magazine edition—an interesting synopsis that just might alter your longevity, and certainly might increase the quality of your aging.
I digressed (one my aging-related traits.)
A synopsis of research conducted by the Harvard Stem Cell Institute garnered mention in this magazine. I won't bore you with the details but it basically suggested that a certain protein (GD11) found in the young blood of all animals could be used to re-energize older animals and increase their lifespan. This is true for all species tested. Doesn't this sound a little vampire-ish? Not for me—remember creativity is in the interpretation. After reading the article, I very quickly jotted down an idea that popped into my head about a villain obsessed with living longer and more youthful—someone who would take that obsession to the extremist measures in the real world. I love portraying heroes with unique vocations so perhaps a scientist that researches pharmaceuticals related to aging would also fit nicely?
That is how ideas happen. From reading something, from conversations, from watching something on television, or from incidents that occur in our own life and trigger an idea. All people have the ability to be creative but many tend to squelch the tendency. Artists and writers recognize the moment and take measures to record each idea as it comes and they include their own interpretation, which makes it unique.
One such idea came to me years ago after taking a fishing expedition in Alaska with my family. I had never been there and adored the rugged terrain and natural beauty. My son and daughter weren't keen on the lack of technology but definitely enjoyed the fishing experience. It was a shame they couldn't take bushels of selfies and post to their friends due to signal loss. My husband and I spent early mornings and late nights wading into ice-cold streams in search of the better catch (we're both a bit competitive.)
I digressed again – darn this aged body – grin.
That trip sparked the idea for a couple meeting in Alaska for a business-related "team-building" function where they get caught up in a dangerous situation that follows them home. I was so excited about the idea I stayed up night and day writing what then became my book Bring It On. This particular manuscript was a finalist in a couple of writing contests as it evolved. Amazon recently collaborated with Crimson romance to re-issue the story. I'm thrilled with their interest. This was my second novel and I really have a soft spot in my heart for the characters.
---
ABOUT THE AUTHOR
Shelley K. Wall was born near Kansas City, the middle daughter of three. She is a graduate of Oklahoma State University with additional post graduate work there and at the University of Wyoming extension in Casper. She also holds a length career in Information Technology.
Shelley enjoys writing characters that deal with drama in a humorous way, situations that are believable even if intense, heroes and heroines that aren't perfect, and villains that may have an inkling of redemption hidden away.
Website: http://shelleykwall.com
Blog: http://shelleykwall.wordpress.com
Twitter: @skwallbooks