Fashion Divas Move onto Main Street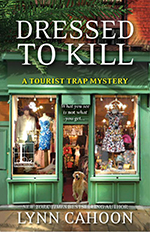 BY LYNN CAHOON
I adore watching the reality fashion shows. I've been the one to try to adjust a pattern, badly, and have the seam of the dress bunch in the wrong place. I get the designer's frustrations as their less than perfect clothes walk down the runway. When it was time to add a new conflict and new characters to Jill Gardner's almost perfect life in South Cove for the Tourist Trap series, I wanted someone to balance her casual California cool style.
Sherry King had been an off page character since book one of the series. In Guidebook to Murder, Sherry keeps reaching out to ex-husband Greg for assistance with her sink and other husbandly duties. Jim, Greg's older brother is still in the pro-Sherry camp. But Sherry and her bestie, Pat, don't appear on page until If the Shoe Kills.
Then all hell breaks loose.
Sherry is the glamour queen. Instead of dress flip-flops, she wears designer heels. Sherry always looks like she's about to go on stage for the interview portion of some beauty contest. I thought that visit might be the end of Sherry's screen appearance, Jill deals with her slight insecurities about not being anything like Greg's ex-wife and the woman and her friend disappear into the sunset.
But Sherry had other plans. And truthfully, that's how the world works, especially in small towns. The girl you dated in high school is a cashier at the local convenience store where you buy your six-pack. Or your ex-fiancé, is now the principal of your daughter's elementary school. You never quite get to step away from your past. South Cove is like that too.
So when Sherry decides to open her own business in South Cove, naturally, it had to be about fashion. Vintage Duds, Sherry and Pat's new adventure, sells gently used designer clothing. They get their stock from estate sales and down on their luck starlets who need to pay the rent. The store has a small runway for trunk shows, mostly because Sherry likes the drama.
Heck, I'd shop there.
If Vintage Duds wasn't fictional.
Instead, I'll have to search out the best resale shops in my new hometown and see what I can find. Maybe I'll be dressing in designer duds like Sherry for my next appearance. A girl can dream, right?
What about you, are you a dress up or dress down type?
---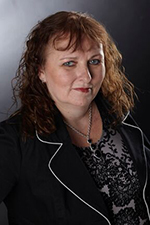 ABOUT THE AUTHOR
New York Times and USA Today best-selling author, Lynn Cahoon is an Idaho native. If you'd visit the town where she grew up, you'd understand why her mysteries and romance novels focus around the depth and experience of small town life. Currently, she's living in a small historic town on the banks of the Mississippi river where her imagination tends to wander. She lives with her husband and two fur babies.