Details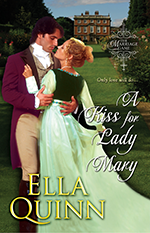 BY ELLA QUINN
The devil is in the details for any writer, but especially historical romance writers. One of the more challenging things to do is not only the research but the willingness to accept the culture as it was and not how you'd like it to be. Certainly not how a 21st century person would react having the rules suddenly superimposed on one.
Take manners for example. A well-bred Regency lady or gentleman had manner drilled into them from an early age. Some of the things they would learn are that gentlemen are always introduced to a lady with that lady's permission. Pity the poor man who was denied an introduction.
At a party, a gentleman is expected to dance with ladies who don't have dance partners. Conversely, a lady, if the dance is open, must dance with the gentleman who asks her or she is not allowed to dance again that evening. Obviously, having one's dance card full early on was the best option.
A gentleman was also not allowed to comment on a lady's person, such as, "You look lovely this evening," unless he was betrothed, or related to the lady by blood or marriage.
I may be slightly eccentric, but I can always envision how much fun it would be for characters to tortured by the very rules they followed. Which is pretty much what happens in my latest book, A Kiss for Lady Mary. My hero, Mr. Kit Featherton is so very proper he almost loses his lady.
---
ABOUT THE AUTHOR
Bestselling author Ella Quinn's studies and other jobs have always been on the serious side. Reading historical romances, especially Regencies, were her escape. Eventually her love of historical novels led her to start writing them. She has just finished her first series, The Marriage Game, and her new series will start in April 2016.
She is married to her wonderful husband of over thirty years. They have a son and granddaughter, one cat and a dog. After living in the South Pacific, Central America, North Africa, England and Europe, she and her husband decided to make their dreams come true and are now living on a sailboat cruising the Caribbean and North America.
Ella is a member of the Romance Writers of American, The Beau Monde and Hearts Through History. She is represented by Elizabeth Pomada of Larsen-Pomada Literary Agency, and published by Kensington.
Website: www.ellaquinnauthor.com
Facebook: www.facebook.com/EllaQuinnAuthor
Twitter www.twitter.com/ellaquinnauthor
Blog http://ellaquinnauthor.wordpresscom