A Real Wild One
BY SHELLEY K. WALL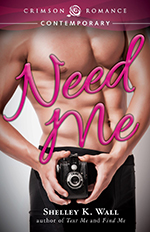 While writing Text Me, I fell in love with Abby's business partner's snarky humor, kooky dress style, and wild ways. I couldn't wait to write her story because it was obvious she needed one. There was a lot to Caroline that readers wanted to know…that I wanted to know. We had a hint that she was a very adventurous soul who had encountered something in her life that forced her to tame her wild ways.
But I didn't want her to be tame—her wildness made her exciting. What happened to dampen her spirit? She was the life-of-the-party type when Abby and Caroline met. So, before I could help her confront her issues and overcome her past conflict with Roger and her work, it was imperative to show them both before they hit rock bottom in their business and personal lives. Where did the wildness come from? Why did such a courageous girl end up spending her last months of college with someone totally her opposite?  Maybe Roger wasn't always boring? Or perhaps he wanted to tame her of the need to put herself in danger.
In truth, I can relate to Caroline in a deep way. She's courageous and always seeking a new hill to climb. So am I. She's smart but lacks the confidence to realize her potential. Same here. She will work herself ragged to help someone else succeed (Abby) yet often gets taken advantage of or has little time left to pursue her own desires. Don't we all get caught in that web sometimes? Top that off with a father whose claim to fame includes a bestselling book based on his research of a group of war veterans and she's feeling a little incompetent.
This book rotates from humorous to seriously emotional as we watch Caroline and Roger interact. Why? Because that's life—real life is funny, sad, boring at times, and thrilling at others. Think about the most exciting thing you attempted…was it scary? How did you feel afterward? Were there humorous parts to the adventure?
Caroline never backed down from a dare yet inside, she isn't the wild child she worked so hard to portray. Roger is solid and steady. Inside, he wishes to throw cares to the wind and escape but obligations weigh heavily. Until he realizes the depth of pain that Caroline suffered and knows she must stop punishing herself and start living again.  You will fall in love with how he chooses to help her.
---
ABOUT THE AUTHOR
Shelley K. Wall was born near Kansas City, the middle daughter of three. She is a graduate of Oklahoma State University with additional post graduate work there and at the University of Wyoming extension in Casper. She also holds a length career in Information Technology. 
Her first release, Numbers Never Lie, debuted in 2012 and was an Amazon Bestseller. Other titles include Bring It On(2012), The Designated Drivers' Club(2012), Flood Flash and Pheromones(2013), Chloe's Secret(2013), Text Me(2014), and her latest release Find Me.
Shelley enjoys writing characters that deal with drama in a humorous way, situations that are believable even if intense, heroes and heroines that aren't perfect, and villains that may have an inkling of redemption hidden away. 
Website: http://shelleykwall.com
Blog: http://shelleykwall.wordpress.com
Twitter: @skwallbooks