Sometimes Things Don't Go As Planned
BY AMANDA BERRY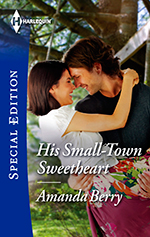 When I finished up One Night with the Best Man, I had to start on Sam's story. I'd written a story for Sam before I wrote the first Ward Brothers book, Father by Choice. Of course Sam had changed a lot since that first attempt and so had I as a writer. So I wanted to start fresh. I got together with some friends to brainstorm and came up with a plan. The heroine wanted to buy Sam's farm, but Sam didn't want to sell. It would be in the middle of winter and we'd have a snowed in theme. I wrote my summary and started on my chapters.
Midway through chapter 2 something wasn't feeling right. I went to another group of friends who are also fellow Romance Divas and explained that something didn't feel right with the plot. Hilarity ensued. Sam needed a dream. Race car driving is sexy was one suggestion. But I was having difficulty putting the Sam I'd created in the previous two books in that situation. We had to dig deeper into who Sam was and what type of heroine he needed to bring him out of himself.
Sometimes it's easy to create a conflict with two characters, but I knew that Sam didn't need someone to butt heads with him. He needed someone who knew who he was on the inside. He needed someone who remembered him before his life went in the crapper. Enter the girl next door.
Nicole has her own problems to contend with, but she does so with optimism and a smile. The perfect person for sour-puss Sam. She's a reminder of who he used to be and won't believe that he really is as bad as he thinks he is.
I could have gone with the easy story. A heroine from outside the town comes in and thinks he's hot, but kind of a jerk. They get stuck together for a few days or a week until the snow lets up and during that time they discover more about each other and fall in love. It would have been simple and explored both characters, but not as good as Nicole's and Sam's story turned out.
If you are a writer don't be afraid to explore different heroines for your hero or different heroes for your heroine. If you are a reader, have you ever read a book and thought that someone else would have made a better hero or heroine in the story?
His Small-town Sweetheart is out in paperback today and is available for preorder in digital for a February 1st release date.
His Small-Town Sweetheart blurb:
Best Friends…Forever
Twenty years ago, Nicole Baxter left the only home she knew—and the boy who shared all her secrets. Now, with nowhere else to go, she's back in Tawnee Valley to figure out her next move—and cry on her old friend Sam Ward's shoulder. Except the gentle dreamer has become a brooding loner who's gearing up to sell the place he loves most.
When Nikki moved away, Sam lost the best friend he ever had. The beautiful, elegant woman who comes home is a world away from the tomboy with pigtails and skinned knees. And he's no longer the dreamy kid who believes in happy endings. Until Nikki starts to convince him they share the same dream: a future together right here in their own backyard…
---
ABOUT THE AUTHOR:
Between walking her Jack Russell-beagle mix, petting her two cats and driving her two kids all over creation, Amanda Berry writes contemporary romance novels (thanks to a supportive husband). A Midwest girl stuck in the wetlands of South Carolina, she finds inspiration in her small-town upbringing. A list of her current releases and backlist can be found at amanda-berry.com.
amanda-berry.com
https://www.facebook.com/amanda.berry.52
https://twitter.com/amandasberry