Stepping Onstage
BY JULIA TAGAN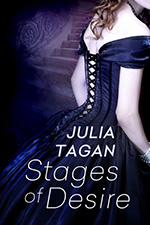 I worked as an actress for several years before turning to fiction, but when it came time to write about theater in Regency-era England, I was stymied. I knew what it felt like to step onstage in front of hundreds of people, so I could easily relate to the nerves that my heroine feels, but the concrete details eluded me.
The heroine of Stages of Desire, Harriet Farley, was born into a family of traveling actors and lived on the road until she was twelve, when she was sent off to be a companion to a duchess's daughter. For the past six years, she's been pretending to be a proper young lady, though at heart she's a rough-and-tumble kind of girl.
Harriet is on the road with a ragtag bunch of performers for much of the novel, in a quest to find her father and save him from debtor's prison, so I knew I'd need to do some serious research into the life of actors in the early 1800s.
Luckily, I live just down the street from the Performing Arts Library at Lincoln Center in New York City. There, I came upon entire shelves of books on London theater in the early 1800s, with lots of fun stories and gossip. The most amazing find was the volume "Strolling Players and Drama in the Provinces," which provided details like how much actors were paid (not much), what kinds of costumes they wore when arriving in a new town (scarlet, with gold trim and lace) and where they performed (courtyards, inns, barns and even cowsheds).
I learned that the phrase "taking the town" comes from the troupe's method of getting a show up and running after arriving at a new location. This required bribing the authorities for permission, hiring out the place of performance and finding accommodations for the actors. Most importantly, they needed to make sure wealthy folks attended the shows, as they tended to be the most generous patrons.
From this small book, I was able to create an entire world for Harriet and her theater company, down to the faded gold trim on the costumes.
What are some of the details from historical romances that have surprised you?
---
ABOUT THE AUTHOR
Julia Tagan lives with her husband and goldendoodle in New York City. A journalist by training, she enjoys weaving actual events and notorious individuals into her historical romances. Her favorite activities include walking her dog in Central Park, scouring farmers' markets for the perfect tomato, and traveling to foreign cities in search of inspiration.
Website: http://juliatagan.com
FB: https://www.facebook.com/julia.tagan