Reality Meets Fantasy
BY COLLEEN SHANNON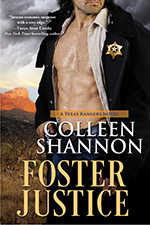 Foster Justice was my first completed romantic suspense with no paranormal elements if you don't count a very wise horse LOL.  Actually Chester was a spot on match for one of the horses I owned prior to my divorce when I lived on a ranchette outside Austin.  He was a sorrel quarter horse who used to be a rodeo cutting horse and he was very comfortable bossing around fractious cows.  We were transporting a steer one time in our trailer with our horses and the steer panicked and literally started bouncing off the walls. Chester looked over his shoulder I swear with utter exasperation.  He was already on his tie down but he reared back with one hoof and the cow went flat, freezing long enough for us to tie it down.  Another time in the arena a rider was going too fast and started coming sideways out of the saddle.
Chester felt it and shifted his weight to the opposite side to keep the rider seated.  And another time he and my Arabian kept getting out of the pasture and crossing the street to the deep grass and of course we were afraid they'd get hit.  So we staked out the pasture gate, hiding around the barn to see what was happening. Chester used his nose, bumping up the gate latch until he could get it open, with my Arab looking over his shoulder as if to say "Come on what are you waiting for?"  LOL.
I hope it's obvious to anyone who reads this book that my love for Texas and horses rings true….
---
ABOUT THE AUTHOR
Colleen Shannon grew up in West Texas where the skies are as limitless as the tales told by its many colorful residents. Surrounded by oil men, lawyers and drillers in a community that has produced two presidents and many national leaders and businessmen, Colleen grew up reading and writing stories of every kind. After college when she married and was expecting her first child, she used a scrap computer to write her first romance. She sold it herself in less than a year, and at the age of 26 began a new career and never looked back. The strength of her first book led to her nomination by Romantic Times as Best New Historical Author. She went on to win and/or be nominated for numerous other awards, including a Kiss Award for all three heroes of her Fairy Tale trilogy written for Dorchester Books.
Her fifteen single title releases have appeared on numerous bestseller lists. She has well over a million books in print. Colleen's latest interests include mainstream thrillers and screenplays. However, she truly enjoys exploring the myriad possibilities between men and women, and she expects to celebrate her love of romance and action with many more novels.
Her newest release is from Kensington, a romantic suspense, her first published contemporary. It is planned as the first in a series about modern Texas Rangers, another interest of Colleen's because her ancestor, a Texas Ranger, was one of the first people buried in Brown County cemetery, Texas. Another one of her ancestors was a signatory to the Texas Declaration of Independence.
Colleen Shannon graduated cum laude from the University of Texas at Austin with a B.A. in Archaeology and more recently earned her Master's in Real Estate Development from the University of Southern California.
http://www.colleenshannonauthor.com
https://www.facebook.com/RomanceWriter
https://twitter.com/bookwriter2001