My Quest to be Organized
BY REBECCA ZANETTI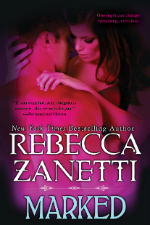 First, a big thank you to Romance Divas for having me over here today to celebrate the release of Marked from the Dark Protector series. I have a nice sheet listing the blog stops right in front of me, and it occurred to me that the busier I get, the more I'd like to be organized. Notice that I didn't say that I actually am organized, just that it'd be nice to get that way.
It seems like sometimes I spend more time trying for organization than is helpful. For example, when you read this, it'll be after Christmas. However, as I write this, Christmas has yet to come. My home office is made up of that pottery barn Whitney desk along two walls and a corner.
Guess what?
The system has a moveable hutch for ribbons, wrapping paper, etc. So I had to buy it. It has sat in our storage room until yesterday, when I had my son drag it upstairs to put on the desk. It's so lovely—and a perfect wrapping station for all the Christmas presents I still need to buy. Except…my wrapping paper didn't fit the cool spindles. It was too long.
I wish you could've seen me trying to use a kitchen knife on my wrapping paper to get it the right size. My husband knows how odd I am, but I don't want to scare him too badly, so I waited until he was at basketball before sawing through paper. Not my finest moment, but I was determined to get that wrapping paper into the right size.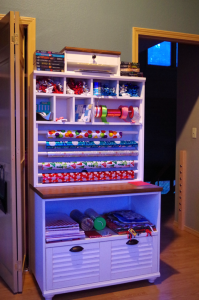 So how does this relate to vampires, Marked, and romance? I have no clue. But I can tell you that I often approach writing like organizing—meaning…not so much. I've tried to outline a book, and I've tried to verbally bounce ideas off my agent. But I always end up just sitting down and starting to write from the beginning—or every once in a while out of order.
I think I like to be surprised on the page as much as the reader, and I often am. Marked is the last book in the main Dark Protector series (spin-off series coming next year), and so many threads had to be tied up, and so many questions had to be answered, that the book just flowed. So far, the reviews have been great, and I'm hoping everyone who's been waiting for Janie's story enjoys it!
Are you organized in real life or just in your head, like me?
Thanks again to the Romance Divas for having me over to play today. Everyone have a lovely holiday season!
---
ABOUT THE AUTHOR
New York Times and USA Today Bestseller Rebecca Zanetti is the author of over twenty-five dark paranormals, romantic suspense, and contemporary romances.  She lives in the wilds of the Pacific Northwest with her own Alpha hero, two kids, a couple of dogs, a crazy cat…and a huge extended family.  She believes strongly in luck, karma, and working her butt off…and she thinks one of the best things about being an author, unlike the lawyer she used to be, is that she can let the crazy out.  Her current series are: The Dark Protectors, The Maverick Montana Cowboys, and the Sin Brothers series.  Upcoming series are: The Realm Enforcers and The Scorpius Syndrome.  Find Rebecca at:  www.rebeccazanetti.com
Website: http://rebeccazanetti.com/
Blog:Â  http://rebeccazanetti.com/blog-2/
Newsletter: http://www.writerspacenews.com/subscribe/subscribe.tml
Twitter: https://twitter.com/RebeccaZanetti
Author Facebook Fanpage: https://www.facebook.com/RebeccaZanetti.Author.FanPage
Goodreads; https://www.goodreads.com/author/show/4149342.Rebecca_Zanetti
Amazon Author Page: http://www.amazon.com/Rebecca-Zanetti/e/B003YJTMF8/ref=sr_ntt_srch_lnk_1?qid=1417310096&sr=1-1