Hockey & Romance
BY CHARLENE GROOME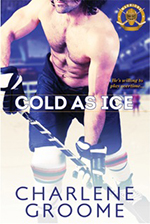 I'm a sucker for heroes with sexy bodies and confident attitudes. Make them hockey players and I'm all over it. There is something about a well-groomed, muscular male living a successful life that fits the fantasy. There's a status to pro athletes. These men are passionate individuals who care a lot about what they do in a game and what they do for their team. They work hard to get to the highest level and continue to be the best in their career.
Ice hockey is a game that I love playing and enjoy watching, so what better way to write a story than by writing what I know? Hockey is fast-paced, physical and made up of pro athletes who mentally prepare every time they step onto the ice. Oh yeah, and did I mention their sex appeal? I thought about these guys as 'real' people and wondered how they cope with their life when there is so much attention on their successes and the high expectations that go along with training to be in the best physical shape possible. Hockey is their life. It's what they do. They've made sacrifices to get to the level they're at.
Cold As Ice is the second book in my Warriors Hockey Club series. It's about defenseman, Devin Miller, who meets his match with sports news anchor, Carla Sinclair. These characters feel like real people to me. They are passionate about what they do and really do want to fall in love.
Devin portrays himself as a cold individual, but Carla has a way of putting him in his place. As they get acquainted, Carla tries to deny their chemistry they share. After all, she's still hung up about her divorce and the several miscarriages she had and doesn't think she'll ever settle down again, or at least fall in love. Devin, on the other hand has his own insecurities that are holding him back from settling down. He longs for a relationship with his father whom walked out of his life when he was a little boy. He never could fill that emptiness. However, when Devin's father calls Carla asking her to help him meet his son, she needs to decide if she wants to get involved with the reunion because it puts her job on the line.
Each book in the series involves one hockey player and they each have a unique story to tell. They all belong to the Warriors Hockey Club where the men need the right woman to settle them down and change their world around.
---
ABOUT THE AUTHOR:
Charlene Groome is the contemporary romance author of the Warriors hockey series. Her books are modern love stories with satisfying endings.  She plays ice hockey, loves a good cup of coffee and finds serenity in going for long walks. She lives on the West Coast of British Columbia with her husband and three children.
www.charlenegroome.com
facebook.com/charlene.groome
Twitter- @charlenegroome