Achieving Your Goals!
BYÂ DIANA COSBY
"Keep away from people who try to belittle your ambitions. Small people always do that, but the really great make you feel that you too can become great." —Mark Twain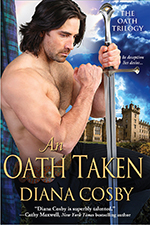 Dreams are visions of what we can become.  But, dreams are also an invitation to doubt, to wonder if you're good enough, or to ponder if you have what it takes.   When I retired from the Navy, I decided to pursue my dream of becoming a published author.  After 100 rejections, I quit counting as I figured I knew how to achieve a rejection.  Then, after 9 ½ years, I finally sold.  The journey taught me many things, which I'd like to share with you.
-Take yourself seriously:  If YOU don't no one else will.
-Associate with people who inspire you, and encourage you to achieve your dreams.  Encourage and inspire others as you grow in your career choice.
-Set a clear goal:  Once you know exactly what you want, break down steps to achieve it.  If you're unsure how to start, read biographies of people who have achieved your dream.   What steps did they take?  Are there comparable avenues you can pursue?
-Success is a compilation of small steps toward one focused goal.
-Affiliate yourself with professional organizations:  Join accredited groups to educate yourself about the industry you've chosen.  In addition to net-working, you will have opportunities to learn from on-line or local sources.
-Self affirmation:  Each morning reaffirm that you are good enough and clarify your goal of the day.  Then, move forward with positive, focused steps.
-Inspirational quotes:  I'm a huge fan of inspirational quotes, they ground and remind me that each of us struggle as we pursue our dreams.  Each day, I find a quote that touches me and post it on my Facebook author pages in hopes others find inspiration in the message as well.
-Permission to fail:  Success is not a moment, but a journey.  As we grow within our craft, there will be times when we fail at a certain steps.  Focus not on the failure, but on the lessons learned.  What worked, what didn't?  Move forward and make wiser decisions with the knowledge gained.
-The way we act and talk about our goals reflects our commitment to them.  What are you telling yourself?  "I WILL do this!"  Or, are you assuring yourself that one day you'll really try?
-Give the gift of example:  When you make the choice to follow your dream, you are doing more than commitment to self, but teaching your children an important life lesson — dare to dream, and follow through.  So, be bold.  Believe in yourself.
 I hope you've found inspiration from my comments.  Believe in yourself, YOU have what it takes!  I wish each of you a wonderful holiday season!
Sincerely,
Diana Cosby, Best-Selling Author
---
ABOUT THE AUTHOR
A retired Navy Chief, Diana Cosby is an international bestselling author of Scottish medieval romantic suspense.  Her award-winning MacGruder Brother books are available in five languages.  Diana has spoken at the Library of Congress, Lady Jane's Salon in NYC, and appeared in Woman's Day, on USA Today's romance blog, "Happy Ever After," MSN.com, Atlantic County Women Magazine, and Texoma Living Magazine.
 After her career in the Navy, Diana dove into her passion – writing romance novels. With 34 moves behind her, she was anxious to create characters who reflected the amazing cultures and people she's met throughout the world.   With the release of her 6th book in the bestselling MacGruder Brothers series, she's now preparing for the release of the 1st book in her new Scottish medieval The Oath trilogy, "An Oath Taken," which will be available on December 8th, 2014.  In addition, she's excited about the upcoming release of The MacGruder Brothers e-Boxed Set on February 24, 2015!
Diana looks forward to the years of writing ahead and meeting the amazing people who will share this journey.