Why Second Bananas Are My Faves
BY EILEEN DREYER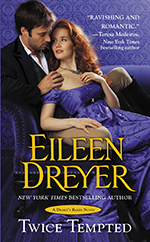 I just got one of the best reviews I've ever received by Miss Ivy's Book Nook on Librarything. The part that really tickles me is this. "What really distinguishes TWICE TEMPTED, for me, is the brilliance and singularity of Mairead, Chuffy, and Lady Bea. I don't believe I've ever encountered their like portrayed as they are. Not only do they shine brightly but they cast a warm glow, enriching both the plot and characters around them. They're treasured, respected, and the way their unique abilities and intelligence are utilized is marvelous."
First of all, thank you Ivy. I'm thrilled that you liked Twice Tempted. But I have to admit that I have a really special place in my heart for Mairead, Chuffy and Lady Bea. Not that I don't adore the main couple in TT, Mairead's twin sister Fiona Ferguson and her love Alex Knight(Earl Whitmore). I always love my heroes and heroines. But I have a real soft spot for secondary characters. I have more latitude with them, can take more chances. They can be the Greek chorus, the red shirts(that happens more in my suspenses than romance) or my comic relief. Mairead, Chuffy and Lady Bea have all been at least two of those.
Lady Bea has been in my Drake's Rakes series for a while now, ever since she was an inadvertent heroine in ALWAYS A TEMPTRESS. Lady Bea is in her seventies, classically aristocratic, but with a handicap that she suffered a brain injury and her speech is challenged. I've adored her from the minute she stepped onto the page–and yes. Characters do that. You sketch them in, and write to add color and hope against hope that they grab the paints and run with them. Lady Bea did.
So did Chuffy. Charles, Lord Wilde, to be precise. Chuffy is one of those ubiquitous British bumblers who always seem to hover in the periphery being sweet and a bit dotty. But I knew all along there was a lot more to Chuffy. Chuffy had untapped reservoirs that only his friends in Drake's Rakes fully appreciated. Until Mairead came along.
Mairead was also a secondary character, even though she was never on the page. She made her first non-appearance in my e-short intro to the second Rakes trilogy(I've divided the nine books into trilogies. Always a Temptress was in the first, the Three Graces. Fiona and Mairead are in the second, Last Chance Academy) IT BEGINS WITH A KISS, in which Fiona is escaping school to search for her missing sister, who everybody knows is…different.
It isn't until TWICE TEMPTED that Mairead enters stage right, and she is just as different, as special as her sister has always said. At least she is to me—and, come to think of it, Chuffy. I knew all along that Chuffy would be part of a couple. I just didn't realize until I began writing about Mairead that she would be the other part, and how absolutely perfect she would be for him.
So yes. I love Fiona and Alex. They are the caretakers, the road-smoothers, the honorable spies. They are passionate and troubled and carry enough baggage to do the Grand Tour. But I have an even more special place in my heart for their second bananas. Because second bananas tend to be a bit more fun, more frail, more outrageous, more cunning. And even if they're difficult to write(every time I write dialog for Lady Bea I come away with a headache), they're ever so much more fun.
How do you feel? Do you have a soft spot for second bananas? For the best friend? The girlfriend or brother or butler? Do you have any favorites yourself? Let me know.
And stop by my website for more info about writing TWICE TEMPTED, including my research on astronomy, which plays a big part in Fiona and Mairead's characters.
---
ABOUT THE AUTHOR
A retired trauma nurse, Eileen lives in her native St. Louis with her husband, children, and large and noisy Irish family, of which she is the reluctant matriarch. She has animals but refuses to subject them to the limelight.
Dreyer won her first publishing award in 1987, being named the best new Contemporary Romance Author by RT Bookclub. Since that time she has also garnered not only six other writing awards from RT, but five RITA Awards from Romance Writers of America, which secures her only the fourth place in the Romance Writers of America prestigious Hall of Fame. Since extending her reach to suspense, she has also garnered a coveted Anthony Award nomination.
A frequent speaker at conferences, she maintains membership in Romance Writers of America, Sisters in Crime, Mystery Writers of America, and, just in case things go wrong, Emergency Nurses Association and International Association of Forensic Nurses.
Eileen is an addicted traveler, having sung in some of the best Irish pubs in the world, and admits she sees research as a handy way to salve her insatiable curiosity. She counts film producers, police detectives and Olympic athletes as some of her sources and friends. She's also trained in forensic nursing and death investigation, although she doesn't see herself actively working in the field, unless this writing thing doesn't pan out.
Website: www.eileendreyer.com
Facebook: https://www.facebook.com/EileenDreyer
Twitter: @eileendreyer