Top 10 Things You Didn't Know About Me
BY JENNIFER ZANE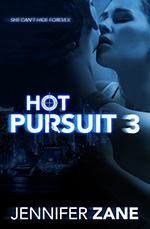 10. I know how to make maple syrup from scratch–as in getting the liquid from the tree and boiling it for hours.
9. My middle toe doesn't bend. Somehow I broke it without knowing it and the bones fused together. If I curl my toes, the middle one sticks out like I'm giving someone the finger.
8. My favorite book is Coming Home by Rosamunde Pilcher.
7. I had a girl dog named Fred.
6. I am obsessed with my pressure cooker. I love how it speed cooks food. And carrots–I don't like carrots, but they're yummy cooked in the pressure cooker. Who knew?
5. I didn't do well in English in high school. I remember having to write a story and I think I failed. It was terrible! I can only imagine what my teacher would think of me now!
4. I used to work for the volunteer fire department as an EMT back in my twenties when I thought I was invincible.
3. I love to crochet. I saw a scarf I liked but didn't know the pattern so I fiddled with a hook until I figured it out. I also do needlepoint portrait pillows of my kids. Yes, I'm crafty–and crazy.
2. When I was young, I had a little tendre for Bobby Ewing from Dallas. If only I had Princess Diana's hair back then!
1. I hate roller coasters (shoot me now) except I love Space Mountain at Disneyland.
---
Jennifer Zane has lived all over the country–from Georgia to Maryland, New York to Colorado. including an exciting five years in Montana. Her time in Big Sky country was the basis for this book. When she's not writing, she savors the insanity of raising two boys, is figuring out how many meals she can make with a pressure cooker, and teaches a pretty mean karate class. She currently lives with her family in Colorado.
http://www.jenniferzane.com
http://www.facebook.com/jenniferzanewriter
http://www.twitter.com/jenniferzane