Reinventing Yourself
BY SHERI COBB SOUTH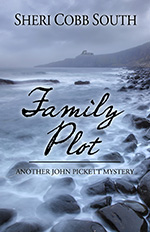 When I sold my first novel (Wrong-Way Romance, a young adult book published in 1991 by Bantam as part of its Sweet Dreams series), I thought I had arrived. I was finally a member of the Published Authors Club, and would never have any trouble selling anything and everything I wrote. I could not have been more wrong. Over the more than twenty years—and sixteen published novels—since then, I've learned that the business of writing for publication is a constant process of re-inventing yourself.
Among the many things I didn't know was that I'd gotten very lucky, very quickly. From writing page one to seeing my masterpiece on the shelves at Walmart took just under three years. It seemed like an eternity at the time, but since then I've met people who have been writing much longer without receiving one dime for their efforts. I admire their persistence; had I gotten this reality check earlier in my career, I'm not sure I would have had the tenacity to persevere in the face of rejection.
When the Sweet Dreams line folded in 1995, I had to pay the dues I'd managed to avoid at the start of my career. I began work on the Regency romance I'd always dreamed of writing someday; alas, about the time I started marketing it, most of the New York publishing houses were dropping their Regency lines. I self-published a number of Regencies (including my bestseller, The Weaver Takes a Wife) which garnered very good reviews, but it was clear that if I ever wanted to sign a contract with an advance-paying publisher again, I was going to have to take my writing in a new direction.
But which direction? What did I enjoy writing? Humor, definitely, and PG-rated romance. But there wasn't much of a market for chaste romance, either, so I obviously needed to cast a wider net. I liked to read mysteries, especially those that had a romance along with the mystery, so that seemed a good place to start. The mystery genre is very series-oriented, though, so I knew I would have to come up with characters I liked enough to live with for a long time. I'd enjoyed the cross-class romance in The Weaver Takes a Wife, so I decided to revisit that scenario—this time matching a young Bow Street Runner with a beautiful viscountess whose husband's murder he is called upon to investigate. But where Ethan Brundy (the titular Weaver) was wealthy and supremely self-confident, John Pickett is poor, inexperienced, and an unlikely match for Lady Fieldhurst.
Fortunately, the series format allows these two disparate characters to come together gradually over the course of several books. In the meantime, I've grown attached to them, and apparently I'm not alone: All About Romance described John Pickett as "a little young, but wholly delectable." All in all, it was a good thing, being pushed out of my comfort zone back in 1995.
---
AUTHOR THE AUTHOR
At the age of sixteen, Sheri Cobb South discovered Georgette Heyer, and came to the startling realization that she had been born into the wrong century. Although she doubtless would have been a chambermaid had she actually lived in Regency England, that didn't stop her from fantasizing about waltzing the night away in the arms of a handsome, wealthy, and titled gentleman.
Since Georgette Heyer was dead and could not write any more Regencies, Ms. South came to the conclusion she would simply have to do it herself. In addition to her popular series of Regency mysteries featuring idealistic young Bow Street Runner John Pickett (described by All About Romance as "a little young, but wholly delectable"), she is the award-winning author of several Regency romances, including the critically acclaimed The Weaver Takes a Wife.
A native and long-time resident of Alabama, Ms. South recently moved to Loveland, Colorado, where she has a stunning view of Long's Peak from her office window.
Website URL: www.shericobbsouth.com