My Dream Job
BY SHANNYN SCHROEDER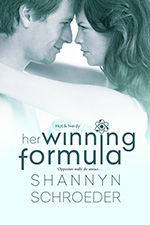 I'm a hard worker. I always have been, which means that I'll work almost any job, even if I hate it, as long as it pays the bills. I worked at a hot dog stand all through high school and college. I even continued to work there after I started teaching. I worked as a tutor. I run my husband's construction company. I work as an editor for an education company and I still teach part-time. That's all on top of being a mom to my 3 kids. My life is a series of part-time work—except for motherhood. That one is never ending.
I have varying degrees of love for all of those jobs (except for the construction company—I hate that job and always have, but it pays the bills). I love being a mom and couldn't imagine my life without my kids, but the pressure and stress take away from it being my dream job. Although, if I got paid for all the tasks that motherhood entails, I might be rich. So far, though, being a writer is the best job yet. I earn money off my dreams. That's a pretty good gig. However, it's still not my dream job.
My best friend and I have talked over the years about opening a bookstore when we get old. We'd sell books—new and used. We'd also have a small café that served tea and coffee and our homemade cookies. My friend and I love to bake. We'd get to work together again (we met at that hot dog stand almost 30 years ago), we'd be surrounded by books (YAY!), and we'd bake (YUM!). It could quite possibly be the most perfect job.
In addition, I'd be able to continue writing because a laptop travels everywhere. I could discuss characters and plot with my best friend as I wrote. She'd be across the aisle to be my beta reader. And did I mention, there'd be books! We could spend our day reading and helping other people find great books.
I know the likelihood of that dream job happening is pretty small. I don't like to run a business (as made obvious through the construction company), and there's no way to have a store and not have to deal with business. But it's still fun to dream. And in the meantime, I'll add those dreams into my books.
What would your dream job be?
---
ABOUT THE AUTHOR
Shannyn Schroeder is the author of the O'Leary series, contemporary romances centered around a large Irish-American family in Chicago and the new Hot & Nerdy series about 3 nerdy friends and their last spring break. When she's not wrangling her three kids or writing, she watches a ton of TV and loves to bake cookies.
Web site — http://www.shannynschroeder.com
Goodreads — https://www.goodreads.com/author/show/6575201.Shannyn_Schroeder
Twitter — https://twitter.com/SSchroeder_
Facebook — https://www.facebook.com/shannyn.schroeder