Fictional Friendships…And Real Ones…
BY LYNN CAHOON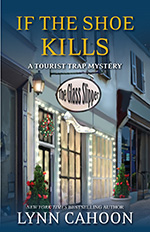 The best part of writing a series is getting to revisit the same town, book after book. But it's not just stopping by Diamond Lille's for dinner or running along the stretch of beach that I love. I adore building the friendships between my character, Jill, and her cronies.
We have Amy, the city planner/receptionist, who's also a diehard surfer. Sadie Michaels turned from the lady who volunteered her time, running the Methodist church's woman's group to a friend and the owner of Pies on the Fly, the major dessert supplier for Jill's Coffee, Books, and More. Aunt Jackie has turned her short term assistance at the coffeehouse to a resident of South Cove and the acting manager for Jill's store.
The characters are becoming real to more than me. My sister told me I couldn't kill off Toby (the barista/part time deputy) in any book and have her still talk to me. Now, that's reader devotion.
My other sister said she'd know when I was mad at her as a nurse practitioner would show up in a story and be the victim. I'm kind of thinking it might be a good idea…
Like many writers, I also have a day job. I've developed several good friendships there, with people that may not come over to my house weekly, but I see for 8 hours plus a weekday. Through the months of working together, we found we have common interests.
Last week, four of us went to the local cooking school for a fancy lunch. The menu was fantastic and the food amazing. I ordered a shrimp and artichoke pasta, but the others had crab cakes and chicken sandwiches. But the best part was the conversation. Four women at different stages of their lives, one single and just starting a career, one just divorced, one in a serious relationship, and me, the married one. I was also the grand dame of the group, having probably 20 years on most of the woman if not more. But our differences seemed light as we talked about our lives.
Sunday I met a friend from out of town for dinner and a movie. Our conversation seemed to pick up seamlessly, even though we haven't met in person since June and our last phone conversation was a rushed few minutes in between panels at a conference.
Earlier this month, I went home for my second visit of the year. This time, my mom was having surgery. My sisters and I talked and cooked and worried together.
Time and distance doesn't seem to change good friendships. Neither does a little thing like being fictional.
So who are your favorite fictional friends?
---
USA Today and New York Times, best-selling author, Lynn Cahoon is an Idaho native. If you'd visit the town where she grew up, you'd understand why her mysteries and romance novels focus around the depth and experience of small town life. Currently, she's living in a small historic town on the banks of the Mississippi river where her imagination tends to wander. She lives with her husband and four fur babies.
Website – http://lynncahoon.wordpress.com/
Goodreads –http://www.goodreads.com/author/show/5857424.Lynn_Cahoon
Twitter -Â https://twitter.com/LynnCahoon
Facebook –https://www.facebook.com/LynnCahoonAuthor
Amazon author page -Â http://www.amazon.com/Lynn-Cahoon/e/B0082PWOAO/ref=ntt_athr_dp_pel_pop_1